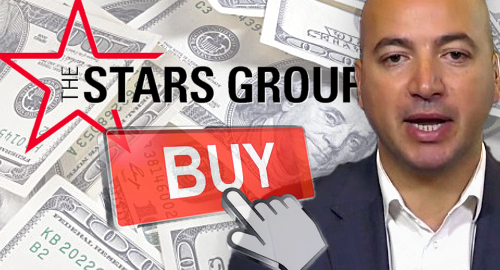 The parent company of PokerStars is looking to raise billions of dollars in order to fund an acquisition buying spree.
On Monday, The Stars Group CEO Rafi Ashkenazi told Reuters that his company was out beating the bushes for investors interested in providing up to $2.5b in capital so that Stars can further broaden the company's horizons.
Ashkenazi (pictured) played coy with names, but claimed The Stars Group was already having discussions with potential targets regarding M&A activity. Ashkenazi did go on record in saying that potential deals would likely involve either one major company or between three and five 'small to medium' companies.
Last week, Stars released its Q3 earnings report, which showed the company continuing to move away from its pure poker origins. While online poker revenue increased year-on-year, the company's casino and sports betting revenue increased their share of the overall revenue pie to 28.9% from 23.7% in Q3 2016.
In the ensuing analyst call, Ashkenazi expressed the desire to establish both its casino and sportsbook sites as "standalone businesses" and part of that goal would be through expanding the sportsbook's live betting product. Ashkenazi cited acquisitions as one way this problem could be resolved.
It was a little more than one year ago when the then-Amaya Gaming scrapped its merger talks with UK bookmakers William Hill, a tie-up in which UK-listed online gambling operator GVC Holdings was also reported to be sniffing around. Only time will tell whether Ashkenazi is looking up old M&A girlfriends or has lost interest in the ones that got away.
While Stars still carries around $2.5b in long-term debt as a result of the company's blockbuster $4.9b acquisition of the Rational Group back in 2014 – back when the Stars Group was still known as Amaya – it reduced its debt by $515m last year and has since amassed a cash stockpile of around $255m.
The Stars Group's increasingly bright horizon stands in stark contrast to that of former Amaya CEO David Baazov, who was forced to resign from the company after being hit with criminal charges of insider trading and allegations that he served as a beard for the real owner of the company, Baazov's brother Josh.
Baazov's criminal trial is expected to get underway in Quebec later this month while this week will see Ontario securities regulators conduct their latest hearing into trades conducted by individuals to whom Baazov was allegedly funneling inside info.
Comments