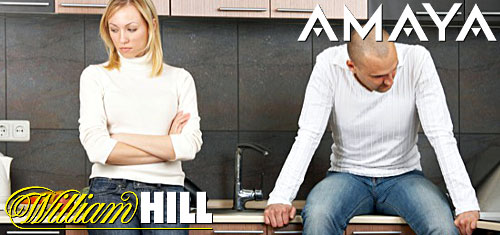 Betting giants William Hill and Amaya Gaming have abandoned talks on a potential merger following public objections by Hills' largest shareholder.
On Tuesday, Hills issued a statement saying it had decided that it "will not pursue" further discussions with Amaya "after canvassing views from a number of William Hill's major shareholders." Hills said it had informed Amaya of its decision and "wishes Amaya well for the future."
Amaya issued its own statement offering Hills similar well-wishes while claiming that Amaya's board had concluded that "remaining an independent company is in the best interest of Amaya's shareholders at this time," which is the most diplomatic way of saying no one else is currently interested in shacking up with Amaya.
Amaya also announced that it had "been informed" that former CEO David Baazov "continues to be interested in acquiring all outstanding shares of Amaya." This runs contrary to media reports earlier this month that claimed Baazov had abandoned his plans to acquire and privatize the parent company of PokerStars.
But Amaya clarified that it still hadn't received a formal offer from Baazov that Amaya's board or its advisors believe "is capable of resulting in a completed transaction." As such, while Amaya will still entertain any legit future offers, the company's much-ballyhooed review of its strategic alternatives "has concluded."
Amaya's stock is in free fall on Tuesday's news, down nearly 10% at time of writing. (Quebec securities regulators are likely scouring trading logs to determine if anyone placed any suspiciously large short-selling orders in advance of Tuesday's news.) By contrast, Hills' shares closed Tuesday's trading largely unchanged from Monday's close.
News of Hills ditching Amaya at the altar was warmly received by Hills' largest shareholder Parvus Asset Management, which launched a preemptive strike on the merger last week that called Amaya an "overvalued asset" whose chief reason for being was poker, a "mature, if not structurally declining, revenue stream."
POKERSTARS PEEVED BY PARVUS' PEJORATIVES
While Amaya was issuing its Thursday statement, PokerStars' corporate blog was pushing back against "certain inaccuracies" contained in last week's Parvus missive. Amaya spokesman Eric Hollreiser said it was "simply not true to say that poker is a mature or declining market."
Hollreiser claimed that the perception of online poker as a spent force was based on "certain public data which under-reports the size and growth of the poker market." Singling out PokerScout's tracking of cash games numbers, Hollreiser claims this data "increasingly only shows a small piece of the pie as it does not capture the continuing customer trend towards tournaments."
Hollreiser insists that Stars' unique poker player traffic has been "consistently growing year-on-year for each quarterly period in 2016." Hollreiser trotted out the popular 'constant currency' filter to reinforce his claims that Stars was showing "healthy trends" in its online poker metrics.
Comments