The losing streak of South Korean casino operator Paradise Co. Ltd. continued in the third quarter despite the seeing a recovery in Chinese VIP play.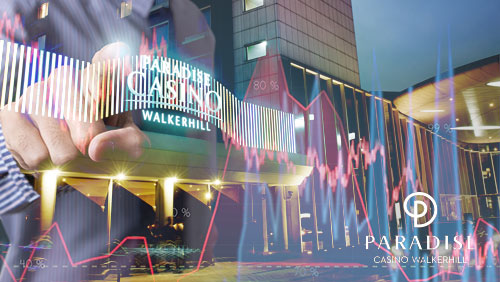 Paradise Co., which runs foreigner-only casinos, saw its net profit plunge by 86.5 percent to KRW1.4 billion ($1.26 million) from KRW10.45 billion ($9.39 million) in the previous year.
Total sales revenue of Paradise Co. for the third quarter was up 11.9 percent to KRW196.1 billion ($176.29 million) compared to KRW175.21 billion ($157.51 million) in the same period of 2016. In terms of quarter on quarter comparison, Paradise Co.'s total sales revenue jumped 40 percent from the April to June 2017 period.
The company said in a disclosure to the Korean Composite Stock Price Index that the robust sales in casino and hotel segments were "backed by recovery in casino operation."
It also noted that casino sales in its subsidiaries were up 25 percent during the July to September 30 period compared to the previous quarter due to the recovery in its VIP and mass customer business, particularly in Chinese VIP play and solid growth from Japanese VIP play.
Compared to last year's KRW1.17 trillion ($10.52 billion), Paradise Co's table drop was at KRW1.41 trillion ($1.27 billion).
Paradise Co's latest casino operating figures came from Walkerhill in Seoul; Jeju Grand on Jeju Island; Busan Casino in the southern port city of Busan; and the Paradise City integrated resort in Incheon, near the main international airport serving the country's capital Seoul. The first phase of Paradise City – a venture between Paradise Co and Japanese pachinko operator Sega Sammy Holdings Inc – opened on April 20.
Meanwhile, the casino operator noted that its existing casinos lost some portion of their customers after the opening of Paradise City.
It also reported that Paradise City "achieved to reach the OP breakeven point" in the third quarter.
Comments