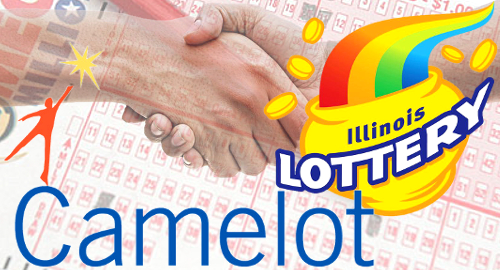 UK National Lottery operator Camelot has won the $2.2b management contract for the troubled Illinois Lottery.
On Friday, the Illinois Lottery announced that it was handing responsibility for managing its affairs over the next decade to Camelot Illinois, a local subsidiary of UK lottery giant Camelot Global.
Camelot established a local office in the state last year for the express purpose of winning the Illinois Lottery's business, although it likely didn't hurt that Camelot was the only bidder for the 10-year contract.
The Illinois Lottery had previously been managed by the Northstar Group, a joint venture of Scientific Games Corporation and International Game Technology, which beat out Camelot for the 10-year contract at the start of this decade.
However, Northstar repeatedly failed to meet its lofty revenue projections, leading Illinois to trigger early cancellation of the contract in 2014, although it's taken this long to find a replacement. Until control can be transferred, Northstar will continue to manage the lottery's affairs and will still receive up to $17m in annual 'disentanglement' fees and up to $14m per year in management fees.
Camelot's new deal "mandates transparency and regular audits," suggesting the Illinois Lottery intends to keep a closer eye on day-to-day operations.
Northstar's brief run as Illinois Lottery overseer had seen it accused of a number of shenanigans, including cancelling scratch ticket games if the game had sold a sufficient number of tickets without anyone claiming its major prizes.
Lottery players' patience has also been tried by incidents beyond Northstar's control, such as 2015's budget stalemate that resulted in the Lottery temporarily issuing IOUs to winning players in lieu of cash payments.
INDIA LOTTERY DRAWING DESCENDS INTO VIOLENCE
Both Northstar and Illinois politicians should consider themselves fortunate that they live in a state where the initial instinct of aggrieved players is to file lawsuits, rather than light their torches and sharpen the blades of their pitchforks.
Case in point: a mob in the Indian state of Odisha went on a rampage at the site of a lottery drawing on Saturday night, beating up the lottery organizers and making off with the prizes. The drawing was held that afternoon, but when the lucky numbers were drawn, some audience members thought they smelled a rat and charged the stage.
Police eventually arrived, but not before the organizers had taken their lumps while their attackers had made off with the prizes, including televisions, refrigerators and other household goods. So step it up, Illinois lottery players, because lawsuits are for pussies.
Comments