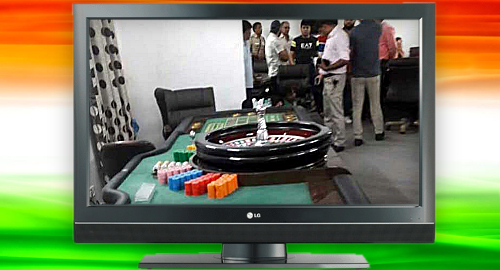 Police in India's second largest city have broken up a high-end illegal casino operating out of a sprawling country house that has served as a location for multiple film and television productions.
Indian media reported that Delhi Police arrested 30 individuals at a 13-acre property in south Delhi on Tuesday night following an informant's tip-off. Police had the property under surveillance for five days, waiting until they were sure the illegal activity was in full swing before springing into action.
A 12-man squad was forced to scale the nine-foot walls of the property because the main gates were heavily guarded. Once inside, police found four casino tables, gaming chips worth over Rs 30m (US $468k) and 42 liquor bottles (mostly single-malt whiskies). Police also seized 13 luxury cars parked outside the illegal gaming venue. Gamblers were reportedly alerted as to when the casino was open via a closed WhatsApp group.
Fourteen of those arrested were gamblers – described as wealthy businessman and property dealers – while another 10 were organizers and five were female attendants. Police also arrested the property owner, one Suresh Yadav, a retired army officer. Yadav reportedly rented the property in May for $39k/month to three men who were the main organizers of the gaming operation.
The farmhouse had served as the setting for a number of film and television productions, including the scripted Crime Patrol and true crime show Savdhaan India. Additional Deputy Commissioner Chinmoy Biswal said the mansion's "palatial structure" made it a popular backdrop for producers.
The bust follows a number of similar police operations at south Delhi rural properties in recent months, and police say these illegal venues have proven popular with the area's high-rollers.
There are only three Indian states that have authorized legal casino gambling – Goa, Sikkim and Daman – and only the first two actually have functional casinos (although Delta Corp keeps promising to eventually open its Daman casino one of these days).
Comments