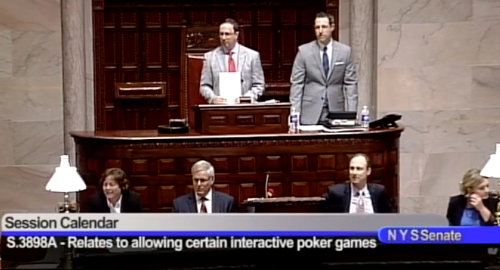 For the second year in a row, New York's state Senate has voted in favor of allowing online poker within state borders, but it's anyone's guess whether or not the state Assembly will follow suit.
On Tuesday, the Senate voted 54-8 in favor of Sen. John Bonacic's S-3898 online poker bill, which would allow a maximum 11 licensees to partner with online technology vendors to offer regulated poker games to individuals over 21 years of age within state borders.
Despite some senatorial grandstanding for the cameras immediately preceding the vote, Tuesday's result was more or less a foregone conclusion. The margin of victory was roughly equivalent to the 53-5 score that Bonacic's 2016 online poker bill received in the Senate nearly one year ago to the day.
The action now shifts to the Assembly, which declined to even bring Bonacic's 2016 effort up for a vote. Key Assembly pol J. Gary Pretlow has offered decidedly mixed messages on what fate Bonacic's latest effort might face when it arrives on his doorstep, alternately suggesting that the reception would be more positive than in 2016 and that "serious objections" remained about the wisdom of treating New York adults like adults.
Last week, New York media quoted Pretlow continuing to play his cards close to his chest, saying "there's always hope" that Bonacic's bill might meet with the Assembly's approval. NewsDay quoted Bonacic saying getting the Assembly on board would be "a tougher walk" than the Senate "but [Pretlow] wants to do it."
The online poker picture was complicated last week by a late amendment that would make it difficult for so-called 'bad actors' – companies who offered online gambling products to US citizens after December 31, 2006 – to serve as technology vendors to New York online poker licensees, even if those companies have changed ownership since their 'crimes' were committed.
While this amendment could prevent any number of companies from participating in New York's online poker market, Amaya Gaming's PokerStars brand appeared to be the amendment's real target. The amendment was added one month after reports emerged that former Amaya CEO David Baazov made an illegal $25k donation to the 2014 election campaign of New York Gov. Andrew Cuomo. It's still unclear whether this amendment is a net negative or positive for S-3898's chances of finding the Assembly's favor.
The clock now begins ticking in earnest, as there are only five remaining sitting days scheduled before the current New York legislative session concludes. Lobbyists, start your engines…
Comments