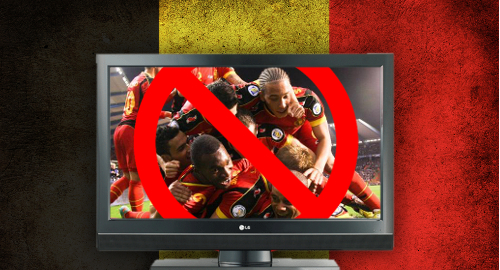 Belgium is joining the growing list of countries seeking to impose tighter restrictions on gambling advertising.
Last week, Belgian media reported that Justice Minister Koen Geens was preparing new legislation that would significantly reduce gambling operators' ability to advertise on local television broadcasts. The proposals reportedly have the full support of the Belgian Gaming Commission (BGC), which already has a reputation as one of the less forgiving European regulatory agencies.
Geens' proposed curbs include a blanket prohibition on advertising any gambling products on television before a watershed hour of 8pm. Gambling ads would be entirely blocked from airing during live sports broadcasts, whether these ads take the form of traditional commercials during breaks in play or on-screen banners during game play.
Even the ads that would be permitted to run could be taken down if the BGC determines that they are promoting "excessive" gambling activity, although the specific parameters of what defines 'excessive' activity have yet to be delineated.
Geen also wants to take the current industry-agreed voluntary requirement to include problem gambling warnings in promotional material and make it mandatory, thereby opening up the potential for punitive action by the government against operators who fail to adhere to the new official standard.
Belgian gambling industry trade group, the Belgian Association of Gaming Operators (BAGO), issued a statement supporting efforts to ensure a "clear regulatory framework" for "ethical and responsible advertising," while warning the government not to get overenthusiastic in its efforts to purge the airwaves of content it finds objectionable.
Belgium launched its regulated online gambling market six years ago and BAGO believes that only around 15% of Belgian punters still gamble with internationally licensed gambling sites. (It helps that the BGC actually fines players who do so.) But BAGO warns this percentage will likely increase to 50% if Belgian-licensed operators are blocked from adequately promoting legal alternatives to these international sites.
Comments