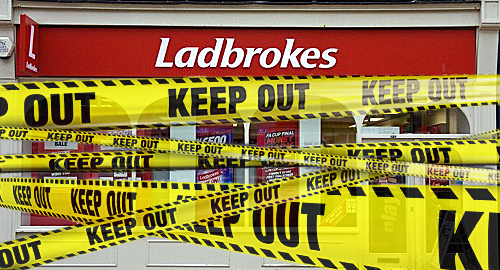 UK bookmakers Ladbrokes have been turfed from six racetracks following a lawsuit over racing broadcast rights.
On Wednesday, the Racing Post reported that the Arena Racing Company (ARC) had informed Ladbrokes that its betting shops at six ARC-run tracks – Doncaster, Wolverhampton, Lingfield, Worcester, Southwell and Windsor – would be closed starting this Friday until further notice.
ARC was prompted to act after High Court claims were filed by betting shop broadcaster The Racing Partnership (TRP), which accused Ladbrokes Coral and Betfred of providing off-tube commentaries of races from the six ARC tracks.
TRP, which represents 15 ARC tracks and seven independents, yanked its video feeds of those tracks from the bookies' shops earlier this month after failing to come to terms on a new broadcast rights deal.
The dispute was the inspiration of the bizarre scene reported earlier this month in which representatives from rival bookie William Hill – which reached a deal with TRP in December – were hanging around outside Ladbrokes, Coral and Betfred shops waving torches to alert punters where they could watch (and bet on) live racing coverage.
The ARC closings come just after Lads announced its return to UK race sponsorship activity via a five-year deal with Newbury Racecourse. In addition to taking over title sponsorship of the Hennessey Gold Cup, Lads will sponsor 12 of the other 13 races during the two-day meeting in December.
Ladbrokes has had a tortured relationship with UK racing of late, being one of the bookies that refused to sign up for the Authorized Betting Partnership (ABP) program, which reserved racing sponsorship opportunities for bookies who kicked back 7.5% of their UK online race betting revenue to the sport.
Lads was able to re-enter the sponsorship derby following the UK government's confirmation this month of a replacement for the racing Levy scheme. The new scheme requires betting operators to contribute 10% of all revenue from UK racing – land-based and online – to the sport of insatiable kings starting this April, thereby making the ABP program moot.