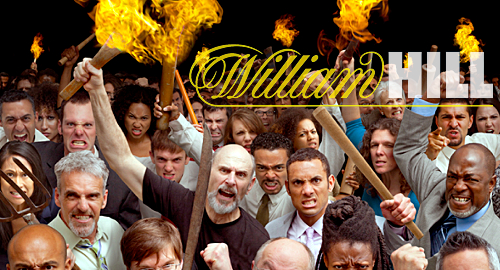 UK bookmaker William Hill is catching heat from both rival bookies and anti-gambling parliamentarians over "appalling" tactics it employed to poach betting customers.
On Friday, the Guardian reported that staff at betting shops run by bookmakers Ladbrokes-Coral and Betfred had reported bizarre scenes of Hills staffers appearing outside their shops waving flashlights to attract the attention of punters inside.
If punters ventured outside to see what the fuss was about, the Hills staffers reportedly alerted the punters to the fact that Hills' shops offered live television coverage of Arena Racing Company horseraces that the other bookies didn't have, due to the media rights deal Hills struck in December with The Racing Partnership. Punters were also offered a free race bet if they accompanied Hills staff back to their own betting shops.
The Guardian claimed to have obtained an internal Hills memo that directed staff to take part in what it called the "torch challenge" and urging staff to "get disruptive and make sure their punters see the light." In addition to their attention-getting flashlights, Hills staff were urged to "take your free bets down too."
A Hills spokesman characterized the 'challenge' as "a bit of fun to highlight that we have a product that our competitors don't." Ladbrokes chose to take it as a compliment to its new position as the UK's dominant high street operator, saying it wasn't surprised "a competitor will sink to any tactics to try and pinch our customers."
Labour MP Carolyn Harris was far less placid over the "pretty appalling" affair, saying it was "indicative of the way [bookmakers] treat people. It's like two dogs fighting over a piece of meat and they're prepared to go to any lengths."
Harris chairs the all-party parliamentary group (APPG) that is pushing for the Tory government to reduce the maximum stake on bookies' fixed-odds betting terminals (FOBT) from its current £100 all the way down to £2. Harris suggested that Hills was in a desperate bid to attract more racing punters because the company is "worried the days of FOBTs are numbered."
For North American readers, the Guardian's breathless reportage of Hills staffers besieging rival betting shops with "torches" – which is UK terminology for flashlights – generated a mental image more akin to the mob of angry villagers at the end of Frankenstein, as the word 'torches' is rarely used unless coupled with 'pitchforks.'
Sadly, we must report that no Hills staffer (that we're aware of) showed up outside a rival shop with any sharp-bladed farm implements. But the year is young and the increasingly razor-thin margins of betting operators could yet spark a wave of bookie-on-bookie violence. Watch this space… and your back.
Comments