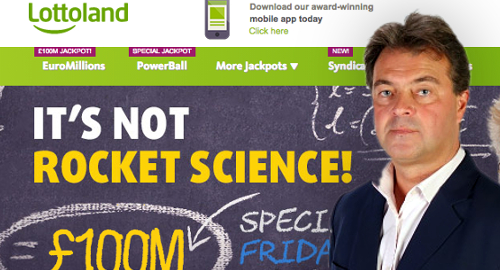 The BBC is axing live television broadcasts of National Lottery draws, banishing the former institution to the Beeb's digital platforms.
The National Lottery live drawing has been a BBC1 staple for 22 years now but the axe has swung following a new three-year deal between the broadcaster and National Lottery operator Camelot.
As of January, the BBC will only air a lottery results bulletin following the news on Tuesdays, Wednesdays, Fridays and Saturdays, while lottery fans also have the option of checking the BBC's iPlayer feed.
BBC content director Charlotte Moore said the change was intended to provide lottery customers with "more ways to access the draw results across a range of platforms that reflect changing behavior." Camelot digital director Tim Copper chose to emphasize that the new deal "maintains the strong relationship" twixt operator and broadcaster.
LOTTOLAND: CAMELOT FEAR "TECHNOLOGICAL PROGRESS AND COMPETITION"
Camelot's recent fiscal H1 results showed National Lottery sales declining more than 6%, despite double-digit gains in mobile sales. Camelot CEO Andy Duncan contributed the decline to "direct, often aggressive, competition" from "bet-on-lottery firms purporting to offer the same products as the National Lottery."
That shot, clearly aimed at online lottery betting operator Lottoland, didn't go unnoticed by that company's CEO Nigel Birrell (pictured), who told CalvinAyre.com that Camelot's slumping sales were "a clear indication that the UK Lottery market cannot and shouldn't hide from technological progress and competition forever. UK customers want and deserve more."
Lottoland fired a shot across Camelot's bow this year by continuing to sell chances to win a EuroMillions jackpot for £2 after Camelot boosted its price to £2.50. Birrell said the price freeze was designed to "offer those customers who were dissatisfied with the price hike a viable alternative – something we believe the UK customer deserves."
Birrell suggested that the ire Camelot has directed Lottoland's way was misguided, considering National Lottery online and mobile sales have improved despite the overall decline. Birrell believes Camelot's declining retail sales are due to "a lack of choice, innovation and an antiquated offering."
Lottoland's share of the UK market is less than 1% of Camelot's slice, leading Birrell to quip that "once again Goliath has come forth to challenge his smallest opponent." But Birrell put down his slingshot and instead asked Camelot to consider the possibility that Lottoland is "beneficial for the industry as a whole in that we are bringing value and choice to the market – something that's been long overdue and that's going to drive the market forward."
Comments