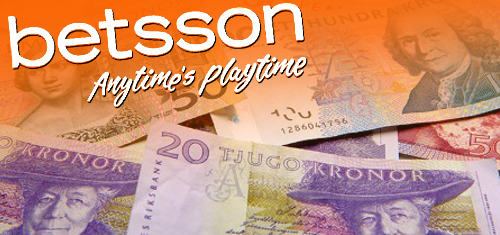 Swedish betting operator Betsson AB rebounded from its dismal Q2 performance by posting healthy revenue and earnings gains in Q3 2016.
Figures released Thursday covering the three months ending September 30 show Betsson's revenue rising 9% year-on-year to SEK 1.06b (US $120m), earnings up 5% to SEK 273m and net income gaining 3% to SEK 254m.
The results stand in stark contrast to Betsson's second quarter figures, advance news of which resulted in a one-third decline in the company's share price. Betsson CEO Ulrik Bengtsson said Q3's strong performance indicated that the company's Q2 challenges were "of a temporary nature."
Betsson's mainstay online casino revenue jumped 11% to just under SEK 732m while sportsbook revenue rose 9% to SEK 300m. Mobile's share of the revenue pie grew 55% to SEK 504m, representing 47% of the total.
Revenue growth was strongest in Betsson's core Nordic markets, which showed a 22% year-on-year improvement, primarily as a result of a strong performance in Nordic sports betting, which saw revenue rise more than two-thirds year-on-year.
The Nordic gains were partially offset by an 8% decline in Western European markets, while Central, Eastern Europe and Central Asia markets slipped 2%.
The Nordic surge allowed it to claim 52.2% of Betsson's revenue distribution, while the Central/Eastern/Asian markets claimed 24.3%, Western Europe scored 20.5% and the rest of the world a mere 3% (although this latter market improved by 71%).
Looking ahead, Betsson says trading to date in the first few weeks of Q4 has been below Q3's average revenue but in line with Q4 2015. The company says operating expenses will be slightly higher in Q4 due to increased marketing efforts.
That marketing includes the company's new Anytime's Playtime campaign crafted by creative agency Leo Burnett. The campaign includes a slightly redesigned logo accompanied by an "irreverent" handwritten tagline. The campaign encompasses TV spots in Sweden, Norway and Finland, as well as "cheeky and conversational" digital initiatives.
Comments