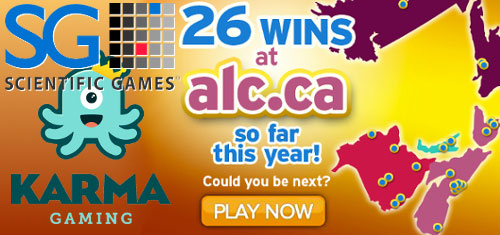 Gaming technology provider Scientific Games has acquired the interactive game portfolio of Canadian developer Karma Gaming.
On Wednesday, Sci-Games announced that it had acquired Karma Gaming's game library in a deal that was concluded in June, although word has only just now emerged. Terms of the deal were not disclosed.
Sci-Games' CEO of lottery operations Jim Kennedy said the deal would allow his company's B2B clients to offer "unique solutions to lottery players that help them to move seamlessly between the retail and mobile/online lottery entertainment experience."
Sci-Games and the Halifax-based Karma Gaming share several mutual lottery clients, including the Atlantic Lottery Corp (ALC) in Canada's Maritime provinces. Last year, the ALC inked a deal that will see it deploy Sci-Games' SciPlay iLottery gaming system starting in mid-2017.
This week, ALC CEO Brent Scrimshaw humble-bragged to Huddle.today that his outfit had been the first North American lottery to offer online ticket sales way back in 2004. But the ALC has seen its young adult player base "drop by almost half" over the last decade and Scrimshaw believes new digital products are needed to stop that erosion.
The ALC had a "banner year" in 2015 with total sales of $1.2b, but while iLottery sales rose nearly one-third, they still only accounted for $27.5m of overall sales. Scrimshaw says the lottery market is "becoming more and more tilted towards the digital side of the business" and the ALC needs to "go deeper and broader if we are going to succeed."
Scrimshaw says the new iLottery business will debut "sometime next spring" and will feature a product line intended to appeal to millennial gamblers. This means "new types of games, games that involve skill, games that have more entertainment value and games that provide the opportunity for social activity."
Scrimshaw acknowledged that the ALC was "the smallest lottery in the country," but claimed that it's also "the most innovative lottery in the country." With the new iLottery system, Scrimshaw believes the ALC is "equipped to compete with anyone."
Comments