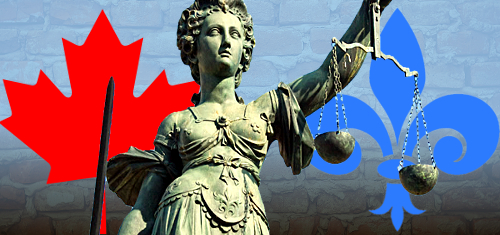 Quebec's controversial legislation to block unauthorized online gambling sites has become law, setting up a looming legal fight between the provincial government, their federal counterparts and local internet service providers (ISP).
On May 17, the Quebec legislature approved Bill 74, the omnibus legislation which includes language authorizing the ministry of finance to order ISPs to IP-block online gambling sites other than EspaceJeux, the site run by provincial gambling monopoly Loto-Quebec.
Bill 74's provisions took effect on May 18, putting Loto-Quebec on the clock for drawing up the list of offending sites. Should ISPs balk at enforcing this blacklist – at the ISPs' expense – within 30 days of its receipt, the law allows for fines of up to $100k per incident.
The controversial plans were announced over a year ago and immediately drew fire from internet watchdogs and ISPs, who noted that censorship of this type had no precedent in Canada, while pointing out that telecommunications issues fall under federal jurisdiction, not provincial.
But provincial finance minister Carlos Leitao said Quebec would skirt any constitutional concerns by framing the issue as a 'public health' matter, in that only Loto-Quebec had the tools to protect the province's problem gamblers from self-abuse.
Leitao conveniently ignored earlier comments in which he told the legislature that the IP-blocking would improve the health of Loto-Queec's bottom line, which stands to gain around $27m per year in additional revenue from the resulting lack of competition.
Bill 74 was briefly discussed in Canada's House of Commons in April, during which Minister of Canadian Heritage Mélanie Joly stated that she and the rest of the ruling Liberal party "believe in net neutrality" and would be having "ongoing discussions" with Quebec officials regarding Bill 74. With the bill having passed, these discussions will likely be conducted in a courtroom.
Loto-Quebec's blacklist will most assuredly not include sites owned by Montreal-based Amaya Gaming, a longtime Loto-Quebec B2B partner. A self-serving report prepared for and endorsed by Leitao last year suggested Loto-Quebec license a few private online operators, like, say, Amaya's flagship PokerStars brand, from whom Loto-Quebec would take a chunk of Quebec-earned revenue.
NETENT EXITING CANADA?
In related news, online gambling technology supplier NetEnt is reducing its Canadian exposure. In an email to customers, Malta-licensed Guts.com announced that "one of our most popular casino game providers, Netent, is no longer offering its games in Canada as of tomorrow, the 26th May 2016."
A followup message indicated that the change affected the Guts, Rizk and Betspin brands. A Rizk Casino rep subsequently confirmed the news via a forum post, saying "the information that I have had through NetEnt is that this is a network-wide IP-blockage and it will come into force tomorrow."
In July 2014, NetEnt issued a notice to Malta-licensed Videoslots.com that called Canada "a black-listed market where NetEnt games must not be offered." The communiqué stressed that NetEnt had "a strict zero-tolerance policy towards this" because "illegal activities might harm NetEnt's strategy."