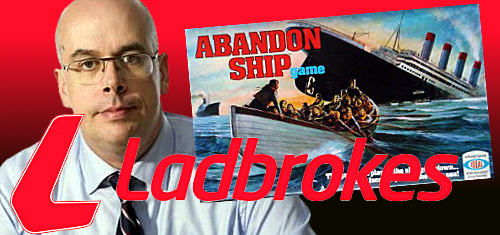 UK betting operator Ladbrokes turned in a boffo Q1 trading update despite a seriously lousy experience at this year's Cheltenham festival.
On Thursday, Ladbrokes issued a trading update covering the three months ending March 31, during which overall revenue rose 10.6%, led by a 36.5% rise in digital revenue (it should be noted that Q1 2015 was particularly crappy). The digital gains would have been even higher (57.2%) if the unpredictable impact of high-value customers (HVC) was included.
Excluding those HVC contributions, Lads' online sportsbook revenue – including its exchange wagering operations – was up 59% as margins improved 1.6 points to 7.9%. Digital sports stakes rose 35.2%, marking the ninth consecutive quarter of staking growth. Mobile stakes were up 57.6% and now represent 77.1% of digital sportsbook wagers.
Online gaming revenue was up 27.3%. Online gaming active customer ranks improved 43.8% while sportsbook actives rose 27.8%.
Things were similarly sunny at Ladbrokes Australia, where net revenue rose 38.4% despite margins being flat at 9.8%. Sportsbook stakes rose 51.5% and active customers improved 87%.
At the UK retail level, overall revenue was up 4.1%. Retail OTC sports stakes were off 1.3% while machine gross win per week improved 1.5%. European retail revenue was up 6.5%, with a 21.2% rise in Belgian OTC stakes offsetting a 7.9% decline in Ireland.
Lads CEO Jim Mullen (pictured) claimed the results offered "plenty of evidence" that the company's digital turnaround strategy is working. Mullen acknowledged that Lads had "benefited from favorable results up until Cheltenham," which he called "the worst in living memory." However, Mullen says experience has taught him that results eventually normalize over time and said the company was confident of delivering on its previous expectations.
Speaking with analysts following the update, Mullen slammed Lads' UK rivals for having "abandoned bookmaking principles" through the use of extreme offers and pricing at this year's Cheltenham. Mullen said many UK bookies had engaged in "unsustainable strategies" in order to win market share, and while Lads had "competed hard," its own strategy had ensured it got "the right returns from the right customers."
Lads also noted that the UK Competition and Markets Authority (CMA) had on Wednesday updated the timetable for its investigation of Lads' proposed merger with Gala Coral Group. The CMA had been expected to deliver its provisional findings by April 18 but this has now been pushed back until mid-May, with a final decision still expected by June 24.
Rumors of the CMA delay initially spread last week, accompanied by talk that the CMA would require the firms to divest themselves of up to 1k retail betting shops in order to assuage competition concerns.