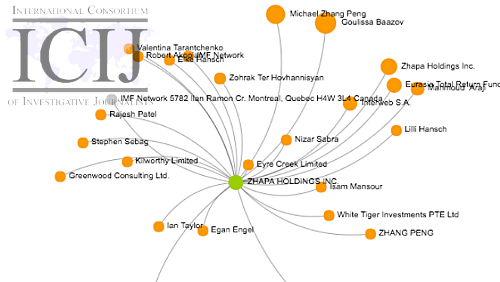 UPDATE: This article originally suggested that the ICIJ data reported below was part of the so-called Panama Papers. In fact, the data is from an earlier cache of 2.5m leaked files analyzed and released by the ICIJ. Regardless, this data has taken on new relevance given the AMF insider trading investigation, and we stand by its newsworthiness.
In addition, Amaya Gaming spokesman Eric Hollreiser sent CalvinAyre.com a statement saying, in part, that the article's "reference to individuals with the same last name as [Amaya] CFO Daniel Sebag provide a false impression. He is not related to nor associated with either of these individuals." CalvinAyre.com has removed this reference from the article.
So-called 'offshore' data files published by the International Consortium of Investigative Journalists (ICIJ) contain possible links to the insider trading scandal involving Canadian online gambling operator Amaya Gaming.
The ICIJ, which recently released 11.5m confidential documents belonging to Panamanian corporate service provider Mossack Fonseca, previously published documents that may factor into the insider trading charges laid against Amaya Gaming CEO David Baazov last month by Quebec securities regulator Autorité des marchés financiers (AMF), which prompted David to announce last week that he was taking an indefinite leave of absence while the brouhaha played itself out.
Among the companies listed in the ICIJ files is Zhapa Holdings Inc, a British Virgin Islands business whose master client is listed as IMF Network, a company based in Amaya's corporate home of Montreal, Quebec. Among Zhapa's listed shareholders are Goulissa Baazov, whom Canada's Globe & Mail newspaper identified as the sister of David and his older brother Ofer Baazov aka Josh Baazov.
Also listed as a Zhapa shareholder is Isam Mansour, one of the 13 individuals whose stock trading privileges were revoked by the AMF after it identified suspicious trading patterns related to multiple Amaya business transactions dating back to 2010.
WHAT ARE THE ODDS(MAKER)?
Zhapa.com appears to be defunct, but it used to pitch itself as a "leading provider for low-cost online internet credit card processing merchant accounts for both Low Risk and High Risk merchants," (the latter category more commonly known as online gambling sites).
Online registries list a number of gambling websites hosted on Zhapa.com's DNS server, including BetonUSA.com, the US-facing online sportsbook owned by Josh and his partner Craig Levett until the pair claimed to have sold their interests following the US government's 2006 passage of the Unlawful Internet Gambling Enforcement Act (UIGEA).
Other sites associated with Zhapa include Oddsmaker.ag, another notorious slow/no-pay US-facing sportsbook that launched following the UIGEA, and Oddsmaker's affiliate site Referincome.com. Both Josh and Levett were originally rumored to be linked with Oddsmaker but someone claiming to be Levett told Bookmakers Review in 2007 that he had no connection with the site.
Both Josh and Levett appear alongside Isam Mansour on the list of 13 individuals whose trading privileges were frozen by the AMF. The regulator has accused CEO David of funneling insider info regarding Amaya transactions to Josh, who then transmitted said info to Levett, who passed it on to others while engaging in suspected illegal trades that reaped over $1.5m in profits.
THE AMAYA/BAAZOV/ZHAPA VENN DIAGRAM
Goulissa Baazov was named a Zhapa shareholder at the company's incorporation in January 2007, shortly after her brother Josh and Levett claimed to have sold their interests in BetonUSA and around the time that Oddsmaker debuted on the online betting scene. Mansour joined Zhapa's shareholder ranks in Nov. 2008.
It remains to be seen whether the AMF or other regulatory agencies looking into Amaya's insider trading antics will incorporate any of the ICIJ data into their investigations. But the hundreds of journalists who have been sorting through the Panama Papers have promised further revelations in the weeks and months to come, so watch this space.
The possible connection of Amaya to a business that appeared to be actively processing payments for US-facing online gambling companies in defiance of the UIGEA could prove of particular interest to gaming regulators in New Jersey, where Amaya's provisional license to operate Pokerstarsnj.com was recently renewed for another six-month period.
TEDDY SAGI DONS HIS PANAMA HAT
In a different intersection of the gambling world and the Panama Papers, Teddy Sagi, founder and largest shareholder of online gambling software powerhouse Playtech, appears as the sole shareholder of least 16 shell companies listed in the Mossack Fonseca files. Sagi did a stint in Israeli prison in the 1990s after being convicted of stock fraud.
Israeli newspaper Haaretz reported that most of these 16 companies appear to be connected with Sagi's significant commercial real estate holdings in London. However, future revelations could indicate some more tangible connection to gambling activities involving Sagi, and presumably a great number of other industry notables.