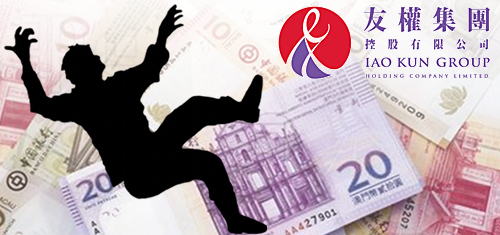 Macau casino junket investor Iao Kun Group Holding Ltd (IKGH) began 2016 the way it finished 2015: in the dumps.
On Wednesday, IKGH announced that rolling chip turnover at its Macau VIP gaming room operations came to $330m in January. That's a 59% decline from the same month last year, only slightly better than the 61% decline IKGH reported in its annual turnover last year.
Making matters worse, IKGH's win rate in January was 2.31%, well below the theoretical win range of 2.7% to 3%. So IKGH's share of a dramatically shrinking pie also shrunk dramatically last month.
IKGH has a stake in five VIP rooms in Macau, as well as more recent ties to two Crown Resorts casinos in Australia. IKGH has yet to incorporate data from its Australian operations into its monthly reports.
Macau's VIP market has been shrinking in tandem with the casino hub's 20-months-and-counting revenue decline. The VIP share of Macau's gaming revenue fell to 54% in 2015, a new record low. The new mantra among Macau casino operators is that mass market gamblers will ultimately be the industry's salvation, although the transition is expected to take a while.
MGM China boss Grant Bowie said this week that the company lost "about three" VIP rooms in 2015, leaving seven remaining VIP facilities at its MGM Macau property. Bowie said the ongoing shift from VIP to mass was a "normal part of any business transformation" and the task at hand was to focus on developing non-gaming initiatives with the hope of attracting more customers "that may also want to play in our gaming rooms."
Bowie dodged reporters' requests for 2016 casino revenue projections, but insisted that Macau's much-publicized plight was "not early as bad as people say it is." Bowie echoed comments by some of his Macau casino peers by claiming to see "early signs of consolidation and some opportunities for growth." MGM Resorts will report its Q4 and FY15 results on Feb. 18.
Comments