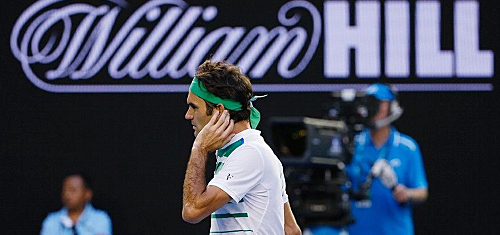 The Australian division of UK bookmaker William Hill says its Australian Open betting turnover is up 80% despite a match-fixing controversy.
On Tuesday, William Hill Australia reported that its betting turnover on the first day of the Australian Open tennis meet is up 80% from the first day of 2015's tournament, while in-play wagers are up 297% (the latter stat undoubtedly aided by Hills' new in-play app).
Hills paid a reputed $5m to become the Open's first betting sponsor but the timing has proven awkward. The Open's first day saw the release of a joint investigation by the BBC and BuzzFeed News that claimed the tennis world's match-fixing problem was far greater than originally suspected.
Hills' courtside ads drew a public rebuke on Monday from the sport's top-two ranked players. Andy Murray said he found the ads "a little bit hypocritical" and wondered why tournaments were allowed betting sponsorships while individual players were prohibited from entering into such arrangements.
The sport's current top player Novak Djokovic said the issue was walking "a fine line. Honestly, it's on a borderline I would say. Whether you want to have betting companies involved n the big tournaments in our sport or not, it's hard to say what's right and what's wrong."
Hills insisted that the players were off base, as betting firms were a major factor in ensuring the sport's integrity. Bill South, Hills' group director of security and community, said the bookie had "comprehensive information sharing agreements to inform the sport's integrity bodies and for the sport to promote licensed operators is the key to ensuring transparency."
NSW FINES BET365, UNIBET FOR INDUCEMENTS
Meanwhile, the New South Wales Office of Liquor, Gaming and Racing (OLGR) has reached into the pockets of Northern Territory-licensed operators Bet365 and Unibet over illegal inducements to NSW residents.
NSW prohibits betting operators from attempting to lure NSW residents through the use of any credit, voucher or reward. In recent months, the OLGR has successfully prosecuted Sportsbetting.com.au, ClassicBet Pty Ltd and Ladbrokes for violating the inducement ban.
The OLGR announced proceedings against Bet365 and Unibet in December. Bet365's local branch was accused of offering a 100% matched bonus up to $200 for all new clients, while Unibet offered "bonus money" with a refund of a stake of up to $50 for first-time greyhound bettors.
Both operators pled guilty to their charges last week. On Tuesday, the Downing Centre Local Court fined Bet365 $5k and ordered the site to pay an additional $5k to cover court costs. Unibet was fined $7,500 plus $5k in court costs.
The OLGR could be laughing even harder on the way to the bank as of March 1, when the state's new ban on promoting in-play betting odds during sports broadcasts takes effect. Violators face fines of up to $55k, so mind your P's and Q's, boys.