I know, I know. Every writer with a laptop and an audience (hello? anyone?) scribbles one of these articles at this point ever season. This one's slightly different because I'm not going to preview the Week 15 assuming that you are just waltzing in to the season at this point. You know who's in, who's not in, who might be in.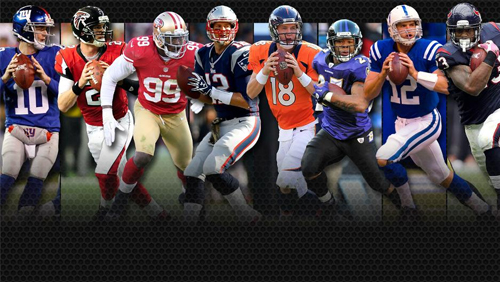 Instead, this is an underscore of what all the teams are searching for in each matchup. Another, stupid variation of this would be, "What Each Team Is Asking Santa for Christmas!" Speaking of which, Happy Holidays!
THE EARLY GAMES IN NFL WEEK 15
NEW YORK GIANTS +4.5 over Carolina Panthers
The Undefeated Season. The biggest issue for Carolina is playing scared. Not of the Giants, but of injuries. They've already lost Stewart for the interim, and starting corner Bene Benwikere, giving Eli a lot more openings in the secondary than anyone should feel comfortable with. This is simply a matter of motivation with Carolina having more reasons to rest than risk more injuries. Newton and Keuchly are also slowed by injury. It's "safer than sorry" for Carolina and their backers I'm afraid.
JACKSONVILLE JAGUARS -3.0 over Atlanta Falcons
Reality Check. Ask yourself this honestly: would you rather have Blake Bortles, the quarterback of a franchise that is so laughable that you can't even see a fan wearing their jersey and say, "what the fuck is that?"…or would you rather have Matt Ryan, a guy who's nickname of  "Ice" has become the best backhanded compliment in the entire league?
Houston Texans over INDIANAPOLIS COLTS
Playoffs? I don't know. I can't bring myself to care about a game that could potentially feature T.J. Yates and Charlie Whitehurst.
Chicago Bears +6.0 over MINNESOTA VIKINGS
Mental Health. Nobody is scared of the Vikings. They had a ton of sex appeal heading in to the season, but have one of the worst point differentials of any winning team in the NFL. It's 0.2, by the way. ZERO POINT TWO. Everyone's going to talk about this as a must-win, bounce back effort for the Vikings, but they barely beat Chicago in Week 8. A loss to Cutler here spells doom for any hope the Vikings have for their immediate, or long-term future. Yes, it's that dire for Bridgewater. I doubt he has the resolve to survive the final stretch of the regular season, which is something Cutler has also failed to do. It's the lesser of two evils here.
Washington Redskins +1.5 over Buffalo Bills
Legitimacy. Everyone is treating Washington like an afterthought in the NFC East even though they currently lead the division thanks to a confusing bunch of tiebreakers. It's obvious that they're canon fodder for the playoffs, but as a spot play in the regular season they've been outstanding. And in this game, you have to take them. They're a great home bet, going 5-1 SU in 6 home stands, and are getting points.
The Bills are a joke on the road at 1-3-1 ATS this season, and any chatter about them becoming a legitimate spoiler in the wild card ghosted when they got their butts kicked by the Jets. Rex Ryan is letting his inmates run the asylum, and as usual, it's backfired in his skinny fat face.
NEW ENGLAND PATRIOTS -14.5 over Tennessee Titans
Hope. The Patriots are hoping that everyone just stays healthy enough to get to the playoffs, and reminding the league of who they are what they can do will help keep any scrutiny out of their locker room.
As for Tennessee, they just have to pray that there's a future here worth banking on. As of right now, they've only played two teams with winning records. They have allowed a -19.5 point differential in those games. So yeah, there's not a whole to hold out for here. That's what payers are for.
Kansas City Chiefs -7.5 over BALTIMORE RAVENS
Momentum. As I've mentioned for the past few weeks, the Chiefs can run the table and have already constructed a comforting 7-0 SU and 6-1 ATS run over the past two months. They need to keep that momentum chugging forward, and hope for a collapse by Denver (more on that later). The AFC West is actually within their grasp.
THE LATE GAMES IN NFL WEEK 15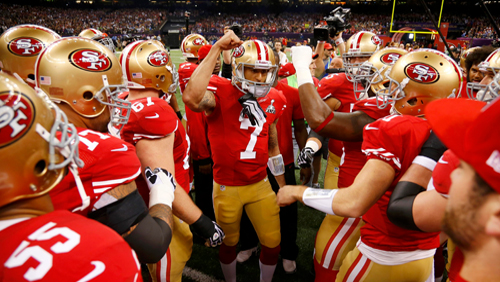 SAN FRANCISCO 49ERS +5.5 over Cincinnati Bengals
Chances. The Bengals are going to go with AJ McCarron unless Dalton's thumb miraculously heals, or the former Alabama star "Osweilers" himself. For Gabbert, however, he really has to do a ton here to prove that he's worth holding on to. Don't laugh. Look at the state of the quarterback position in the league. It's bad. He might be San Fran's best option if they really decide to cut the cord with Kaepernick. Oh you don't think they're dumb enough to retain Gabbert? They fired Jim Harbaugh!
PITTSBURGH STEELERS -7.0 over Denver Broncos
Stability. The Steelers are on tenuous ground as a wild card team, they could steal the division from Cincinnati, or fall out of the playoffs if the Jets actually go on a run (it could happen!!!). For Denver, it's the same. They're getting hounded by Kansas City, and Brock Osweiler absolutely stinks. We know the Steelers are going to show up, but is Denver? Look at that line. The best defence in the NFL is getting zero respect from the oddsmakers.
SAN DIEGO CHARGERS -2.0 over Miami Dolphins
Farewells. This could be San Diego's last game at Qualcomm Stadium, and teams have a habit of going out on a high note when they're possibly saying goodbye to their hometown (see 2014 San Francisco 49ers and the Rams on Thursday night). It helps that the sluggish Dolphins backstroke in to town with a horrendous record of 0-4 ATS when playing losing teams. We can also probably start saying goodbye to Dan Campbell too.
SEATTLE SEAHAWKS -15.0  over Cleveland Browns
Job Security. The Seahawks have allowed just 14.0 points per game during a 4-0 SU and ATS win streak. So bet on them as heavily as you can. But this game is more so about two men who have been at odds – Johnny Manziel and Mike Pettine.
I'm in the camp that believes Manziel just needs an actual shot with a staff and team that believe in him. It's what any young quarterback needs – a safety net. As for Pettine, he just called out Russell Wilson in the press, which is probably the dumbest thing to do when a guy has just dropped 17 touchdowns in four games. Let's see who does enough to keep their job in the NFL safe against what's become one of the scariest teams out there.
Green Bay Packers -3.0 over OAKLAND RAIDERS
Rediscovery. The Packers know how to be great. They've fumbled and bumbled their way through a fairly uninspiring season. Last week they started to show glimpses of the championship caliber that they're regarded as possessing. The only reason that Oakland is worth a flier here is if they suddenly remember what allowed them to drop 35.6 points per game between Weeks 7-9. Since then, they've only scored 17.2.
NFL WEEK 15 PRIME TIME GAMES
New York Jets -3.5 over DALLAS COWBOYS
Credit. As I wrote about yesterday, the Jets are in the playoff hunt and nobody seems to care because the streaking Chiefs and Steelers are also in the wild card mix. Nobody is giving them any credit, while the oddsmakers continue to give the 4-9 ATS Dallas Cowboys way too much. Matt Cassel against this defense? Are you kidding me?
Detroit Lions +3.0 over NEW ORLEANS SAINTS (Sunday)
Entertainment Value. The season is lost for both teams, but their ability to score is far from dead. You could have worse games to watch on a Sunday night than Stafford against Brees in a battle for respect. The Lions have the 28th ranked scoring defense in the NFL, while the Saints still have the worst. And yes, this is a roundabout way of encouraging you to smash the OVER of 51.0 points with anything you have left in your wallet. Honestly, who wants to see a defensive struggle? I WANT TO SEE TOUCHDOWNS!!!!
Arizona Cardinals -3.5 over PHILADELPHIA EAGLES (Monday)
Wacky Mirrors. A Head Coach of the Year front-runner who is an actual genius, against one who is perceived as an evil genius. Two incredibly deep rosters where one has figured things out and the other can barely keep it together from week to week. Two quarterbacks drafted first overall with polar opposite careers on the field. What was supposed to be the fastest, swirling offence heading in to the season against the actual, top ranked offense from 2015.
The Cards and Eagles are like bizarre – or bizzaro –  opposites of each other, especially when you consider that one is a great long term and short term bet overall, and the other isn't even close.