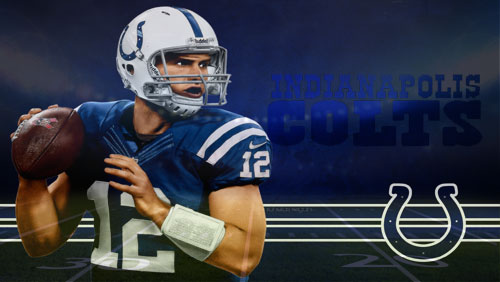 If you are Andrew Luck, how do you respond after a straight-up loss? Pretty well, as it applies to those who may be engaged in Monday night football betting this week. Let's put it this way – prior to last week's 27-14 loss to the Buffalo Bills, the Indianapolis Colts had lost fifteen games with Luck as their quarterback, and he has responded by going 14-1 against the pointspread after those defeats. That has truly been a trend people have come to rely on.
And maybe that is pretty rough news for the New York Jets, who are somewhat giddy after winning their first game under new coach Todd Bowles, beating the Cleveland Browns 31-10.
We probably don't have to explain that there is a world of difference between the quarterback the Jets faced last weekend and the one they will face on Monday. Cleveland had to go quickly with Johnny Manziel after Josh McCown went down, and although Manziel threw a touchdown pass, he was also overmatched in many situations. Luck, it goes without saying, is much more composed.
In the Monday night football betting odds that have been posted on this game, the Colts are rather decisive favorites:
Indianapolis Colts  -7 (+100)
New York Jets  +7 (-120) 
Over 46.5 points  -110
Under 46.5 points  -110
Look, no one is expecting a lot of explosiveness from the Jets offensively. After all, Ryan Fitzpatrick does not set the world on fire as a quarterback. And he was not the preference on the part of Bowles to be the starter after Geno Smith had his infamous locker room debacle. But he WAS the safety net, and what they hope is that he can at least minimize mistakes. He suffered through an interception in Week 1 and threw for 179 yards. What the Jets have to do is max run and pass, and they were able to do that successfully against a Cleveland defense that is not necessarily a pushover. In fact, New York ran the ball 60% of the time, and that makes them extremely run-heavy in this day and age.
The Colts were at the other end of the spectrum. Luck was essentially forced to play from behind all day, and as a result football bettors saw 49 pass attempts from him, while the Colts ran only 17 times. Folks should not expect this to be the norm – at least that was not the expectation when they reached out for veteran Frank Gore as a way of truly establishing a presence on the ground. Admittedly, sometimes a running back gets old overnight, but we wouldn't advise people to start drawing conclusions from his very limited contributions last weekend, when he ran for just 31 yards on eight carries. We'll see how this plays out as the season progresses.
The dynamic in effect here is a little different than last week. Yes, the Jets are physical like Buffalo; after all, they were with Rex Ryan too. But Fitzpatrick doesn't offer mobility like Tyrod Taylor did last week. So the defensive assignment might get a bit easier. Yeah, we are worried that TY Hilton has a knee problem and may be operating below 100%. But he will nonetheless be operating. Luck can get underneath to his tight ends, and it doesn't seem likely that cornerback Antonio Cromartie makes post for New York. We're okay going with the trend we mentioned at the top, and we also add that the Colts are 8-2-1 ATS in their last eleven tries as a home favorite.
THE PLAY BY JAY:  INDIANAPOLIS -7 **
(Graded on a scale of 1-4 stars)
Charles Jay is a gaming professional, content specialist and sports handicapper. For more of his NFL betting opinions, please visit his handicapping website, Plays By Jay, at http://playsbyjay.com
Comments