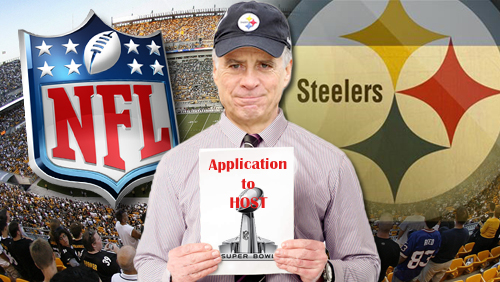 The Pittsburgh Steelers has officially submitted its application with the National Football League (NFL) to host the Super Bowl LVII at Heinz Field in 2023.
News of the application surfaced when Steelers president Art Rooney II met with Pittsburgh Mayor Bill Peduto, Allegheny County Executive Rich Fitzgerald and other community leaders.
Rooney confirmed through a statement on Wednesday that the team formally applied in May.
"We met this morning with local community leaders to provide an update on formally submitting our application to the NFL to bid for Super Bowl LVII in Pittsburgh and Western Pennsylvania," said Rooney."The application is an early step in the bidding process, and we will continue to meet with representatives of the Mayor's Office, County Executive's Office, VisitPittsburgh, Allegheny Conference as well as other community leaders to review the requirements with the hopes of submitting our bid to host Super Bowl LVII in 2023."
Pittsburgh meets the NFL's minimum requirement of 30,000 hotel rooms within 90-minute drive of the stadium. According to VisitPittsburgh, the city has 36,468 rooms within that range, with another 2,255 under construction.
In preparation, the Steelers is sending representatives to Northern cities that have already hosted the game" to prepare for their meeting with the NFL.
Weather could be one of the concerns as Pittsburgh's average temperature in February is 39 degrees but the team was encouraged by Super Bowl XLVIII, which was held at MetLife Stadium in East Rutherford, New Jersey —the first Super Bowl held at an open-air stadium in a cold-weather and went off without any major glitches.
Rooney mentioned a number of Northern cities that have expressed interest in hosting a Super Bowl, including Boston, Buffalo, N.Y., Denver, and Seattle but none of those cities has domed stadiums. Pittsburgh plans to host the Super Bowl at Heinz Field, a 15-year-old stadium that can accommodate over 67,000 fans.
Bidding for Super Bowl LVII opens in October 2018, with the official vote coming in May 2019.
This year will be the 50th Super Bowl and will be played in Santa Clara, California at Levi's Stadium. In the most recent odds, the Packers is the favorite to win at 6/1, followed by Seahawks at 13/2. The Colts have the third-best odds to win the Super Bowl at 8/1 while Cowboys at 10/1, and Broncos at 12/1. Steelers is at 25/1 same with Ravens and Cardinals.
Odds courtesy of Bodog
Comments