Daily fantasy sports activity fell for the sixth straight week thanks in part to FanDuel's decision to exit the New York market.
According to stats provided by DFS analysts SuperLobby.com, guaranteed prize pool (GPP) fees in the NFL's Week 11 were down at both FanDuel and DraftKings. The decline was far more pronounced at FanDuel, but both sites continued to take in more than they paid out.
DraftKings, which has remained in the New York market in defiance of New York Attorney General Eric Schneiderman's cease & desist order, reported Week 11 NFL GPP fees of $20.4m, down just 0.25% from Week 10. But the company's payouts fell to $18m, resulting in an 11.6% margin, up from 11.5% in Week 10, making it DraftKings' best margin performance to date this NFL season.
FanDuel has complied with Schneiderman's C&D, and its NFL GPP fees fell by around $1.1m to $15.9m. Counting FanDuel's NFL cash games, the site took in $23.6m (-$1.44m) in fees and paid out $21.2m, for an effective margin of 10.3%
FanDuel announced further cuts to its marquee NFL contest for Week 12. The Sunday Million's overall guarantee will fall another million to $2m, while the top finisher's take will be reduced by $100k to $200k. This marks the fourth time FanDuel has reduced its marquee NFL contest numbers and the second reduction in as many weeks.
Yahoo's third-place site reported GPP fees down 5% from Week 10 to $861k, the sixth consecutive week of falling participation. But margins improved to 9.6%, the company's best performance to date, and the company posted positive revenue for only the second time this season. Yahoo was recently added to the list of sites in Schneiderman's legal crosshairs, but the company has yet to follow FanDuel's lead and exit the New York market.
DRAFTKINGS ENLISTS GEOCOMPLY TO BLOCK PLAYERS IN BANNED STATES
In other developments, DraftKings announced on Friday that it had signed a deal with geolocation specialists GeoComply to bolster DraftKings' ability to block players from states where DFS is expressly illegal. GeoComply, which recently launched a dedicated DFS product, provides similar services for operators in the three US states in which real-money online gambling is currently permitted.
The announcement came just days after Schneiderman accused DraftKings of accepting nearly $500k in entry fees in 2014 from players in the five states – Arizona, Iowa, Louisiana, Montana and Washington – where DFS activity was verboten. The New York Times recently reported that players in these states had no problem accessing DraftKings via the use of proxy servers. DraftKings' release says GeoComply provides "the best available defense against proxies."
DraftKings was similarly criticized for lacking effective measures to block players from Nevada following the state's October declaration that DFS is gambling and sites could either acquire state gambling licenses or GTFO.
FANDUEL TAPS FORMER HOMELAND SECURITY BOSS FOR ADVISORY BOARD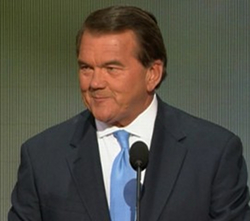 Friday also saw FanDuel announce the formation of a new internal advisory panel to provide the company's board of directors with "independent advice on evolving governance and regulatory issues."
The advisory board will be headed up by Michael Garcia, the former US Attorney for the Southern District of New York. The current US attorney for the SDNY, Preet Bharara, is reportedly investigating DFS for potentially violating federal gambling laws.
The advisory board will also feature Tom Ridge (pictured), the former head of the federal Department of Homeland Security. Since leaving government, Ridge has also served as an adviser to FairPlayUSA, the online poker advocacy group financially backed by US casino operators Caesars Entertainment and MGM Resorts.
SKILL V. LUCK V. BLIND LUCK
DraftKings' new high-priced attorney David Boies held a press call on Friday to preview his strategy for defending the site against Schneiderman's allegations at a Wednesday court hearing in New York.
New York Justice Manuel Mendez has reportedly allowed both DraftKings and FanDuel attorneys 20 minutes apiece to make their oral arguments at Wednesday's hearing. Schneiderman's team will also get 20 minutes to present its case. Mendez isn't expected to issue any ruling on Wednesday and it could be weeks before his opinion is known.
On Friday, Boies argued that New York's penal code defined gambling as games in which a player risked money "upon the outcome of a contest of chance or a future contingent event not under his control or influence." Boies argued that DFS contests "require a great deal of skill, and skill is what gives people the ability to influence or control the outcome."
Perhaps, but Schneiderman can now point to a Lawrence, Kansas man who won $438k on DraftKings using what appears to be pure guesswork. Local CBS affiliate KCTV reported that Scott Overfield spent only about half-an-hour assembling his winning lineup despite his admission that he wasn't a "sports fanatic" and that he "probably couldn't name more than 10 football players."
PGA BANNED MEMBERS FROM ASSOCIATING WITH DFS
Finally, Golf.com reported that the Professional Golfers' Association (PGA) has prohibited its players from endorsing or playing on DFS sites. In a memo dated Sept. 24, the PGA Tour said real-money fantasy sites "are considered illegal in many states" and therefore it would "regard any player participation in these games as conduct unbecoming of a professional."
Golf is problematic for DFS sites, given that the carveout in the 2006 Unlawful Internet Gambling Enforcement Act (UIGEA) so often cited by DFS operators as justifying their existence limits real-money fantasy play to the results of "multiple real-world sporting or other events." DraftKings offers DFS contests on golf tournaments, while FanDuel does not.