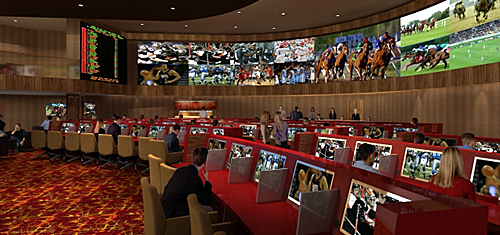 Could sports betting give Macau's beleaguered casino industry a boost?
MGM China's second property in Macau isn't set to open on Cotai for another year but MGM Resorts CEO Jim Murren is already fretting over how many new gaming tables the property will be allocated by the local government.
MGM Cotai was designed to accommodate 500 gaming tables but expectations are that it might receive only half that number. The two new resorts to open on Cotai this year – Melco Crown Entertainment's Studio City and Galaxy Entertainment Group's Phase 2 of Galaxy Macau – had been built to accommodate 400 and 500 tables respectively, yet each received only 250 new tables as the government maintained its adherence to its much maligned gaming table cap.
Murren told the Macau Daily Times that if MGM Cotai was only allowed 250 new tables, "we'd have to move tables from here [its MGM Macau casino on the peninsula] to there. We wouldn't have enough tables to do everything we would like to do in Cotai, but we would adjust to that. We would make the best of the situation."
SWAP TABLES FOR FLAT SCREEN TELEVISIONS
With so much casino floor space going unused, the suggestion has been made that this is the perfect opportunity for Macau casinos to embrace Las Vegas-style sports betting lounges.
Sports betting has always been an afterthought in Macau, where Macau Slot holds a monopoly on betting via 10 nondescript retail venues, plus modest phone and online services. But Macau Slot's monopoly was renewed this July for just a single year, rather than the three-year extension it received in 2012, suggesting the government may be considering opening the market to new entrants.
Macau authorities have challenged casino operators to offer something more than just baccarat in order to broaden Macau's appeal beyond its current demographic. Global Markets Advisors partner Andrew Klebanow told Forbes.com that the creature comforts of Vegas-style sportsbook lounges could help casinos achieve that aim.
Klebanow said casino operators could run special promotions timed to events on the sporting calendar that would draw visitors looking for something a little livelier, a little more social than staring glumly at cards on a felt-covered table. FootballBet.com CEO David Leppo said sportsbook lounges would allow casinos new ways to differentiate their product from their competitors.
CG Technology (formerly Cantor Gaming) opened its first venue in Tianjin, China a couple years ago, and while the betting is limited to lottery games, the three-story, 8k-square-meter Tianjin Lottery Club offers many of the same perks sports fans have come to enjoy at CG Technology's eight Nevada sportsbooks.
In 2012, the CEO of CG Technology's parent company Cantor Fitzgerald claimed the sports betting provider was planning to enter the Macau market. Those plans were quashed when Macau Slot's concession was renewed, but perhaps the time is right for a major lobbying push. With Macau's gaming revenue having fallen for 17 straight months and no end in sight, it's time Macau's leaders began thinking outside the box.
Comments