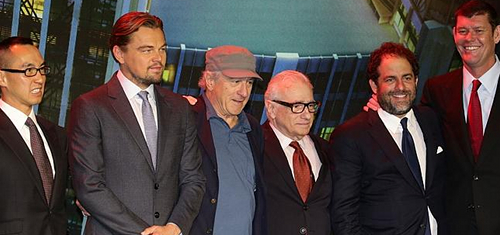 Macau's newest casino opened on Tuesday without a single VIP gaming table, a reflection of both the current state of Macau's VIP market and the Macau government's commitment to its gaming table cap.
Melco Crown Entertainment's movie-themed Studio City resort casino held its star-studded grand opening on Tuesday, featuring appearances by Hollywood luminaries and a performance by singer Mariah Carey. But Studio City also distinguished itself from its competitors by its lack of junket-operated VIP gaming rooms, a scenario that would have been unheard of just a year ago.
As Studio City threw open its doors to the public, Melco Crown CEO Lawrence Ho revealed that the move to designate all of the property's tables as mass market was "a business decision." Melco Crown had asked for and expected to receive 400 gaming tables, only to learn just last week that Studio City would receive only 250 tables – 200 upon launch and a further 50 in January 2016.
Ho said that once the final figure was known, it was "a no brainer" for Melco Crown to designate all the tables as mass. Had Melco Crown's request for 400 tables been granted, "maybe there would have been a very small portion for VIP. But we are where we are."
Macau's government has resolutely stuck to its stated policy of containing new table allocation to 3% compound annual growth until 2022, when the last of the six casino concessions expires. The government is determined to diversify Macau's economy beyond pure gambling and has repeatedly said it will allocate new tables based on operators' commitments to incorporating a larger proportion of non-gaming amenities into their new properties.
At his press conference on Tuesday, Ho said Melco Crown had "steered away from VIP a long time ago" based on the company's recognition of the government's wishes. Ho said Melco Crown was the "second least reliant on VIP" among Macau's six operators, with VIP gaming representing less than 10% of Melco Crown's group earnings.
Melco Crown's anti-VIP stance isn't entirely altruistic, as VIP gaming's share of Macau's overall revenue pie fell to 53.3% in Q3, down from nearly 65% two years ago. And unlike mass market gaming, VIP revenue must be shared with junket operators, making it far less profitable for the casinos.
THE AUDITION STARS WALK THE RED CARPET
Studio City's opening was graced with the presence of Hollywood actors Leonardo DiCaprio and Robert De Niro, along with director Martin Scorsese. The trio star in the Scorsese-directed short film The Audition – essentially a 15-minute advertisement for Studio City – which was played at the resort's 5k-seat theater on Tuesday. The Audition also stars actor Brad Pitt, who was a no-show on Tuesday, reportedly due to prior commitments elsewhere.
The Audition was brought to life by RatPac Entertainment, the production company owned by producer/director Brett Ratner and Crown Resorts owner/Melco Crown co-chairman/Mariah Carey's boyfriend James Packer. Asked on Tuesday about the film's alleged $70m price tag, Packer played coy, saying only that it wouldn't be such a high price to pay for "the best marketing campaign in the history of the world."
Ho celebrated the fact that no other Macau casino operator had ever attempted anything like the film and that its 'viral' reputation had already justified its production costs. Ironically, Ratner revealed that the entire film had been shot on a New York soundstage using computer generated images to stand in for the (at the time) unfinished resort.
Ho told the Los Angeles Times that The Audition was currently running as a bonus attraction in Hong Kong cinemas and that the hope was to do the same in mainland China, although Beijing doesn't allow gambling advertisements on the mainland and may take some convincing to accept The Audition as a work of pure cinema.