The Global Poker League will launch Q1 2016 with 12 franchises, a specially created Cube gaming area, and the promise to hold live events in iconic sporting and gaming arenas around the globe.
Alex Dreyfus isn't changing poker. He's tearing it down. The Global Poker League (GPL) is his wrecking ball. It's about to start swinging.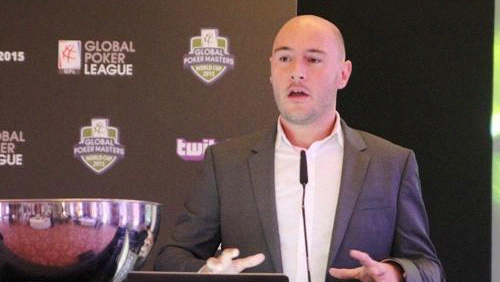 Rev. Michael Bernard Beckwith once said that a vision without action is nothing more than fantasy, and action without a vision is pure chaos. Beckwith is a smart man; so is Dreyfus. The Frenchman has a vision to create a new entertaining sport called poker. There will be no chaos. That will be controlled through the GPL. That is his action.
After raising $4.9m in Series A funding from China and Europe, Dreyfus and his team has given us a sneak peek at the framework that will create the GPL. It promises to be the most innovative change in poker since the creation of the hole cam.
Season 1 will kick off in Q1 2016. There will be 12 franchises, each representing a city, with expected teams rising up from New York, Los Angeles, San Francisco, Las Vegas, Toronto, Sao Paolo, London, Paris, Prague, Barcelona, Moscow and Hong Kong. The franchises will be split into two conferences: Americas and Eurasia.
Each team will consist of five players. Three of these players will be drafted during a special NFL type GPL Draft Day – with only the top 1,000 Global Poker Index (GPI) ranked players available for selection – and two will be wild card entrants.
Teams will compete for at least 14-consecutive weeks. The matches will take place across three formats: online, studio based and live. Dreyfus aims to take the public eye away from the casino, and direct it at some of the most iconic sporting venues in the world. The climax of Season 1 will be known as the GPL World Championships, and it will take place in the summer of 2016, at one of the most renowned sports and entertainment venues in the world – no doubt in line with the beginning or end of the World Series of Poker (WSOP).
All GPL matches will be aired via live stream, with a selection broadcast on television, with pre match analysis brought to you from a panel of experts, and top-notch commentary throughout the games.
Dreyfus believes the key to success lies in the storytelling, and ensuring that poker is entertaining.
So how does he intend to do that?
The wildcard entries allows Dreyfus to include some of poker's natural entertainers. Inclusion in the GPI Top 1,000 relies on a certain work ethic. Not all players have the inclination to work that hard anymore. A classic case in point is Phil Hellmuth. The most successful player in the history of the WSOP doesn't play as many events as he used to, and as such this weakens his GPI position – but he is one of the first players you would want to see in an event like this.
As highlighted by the recent TV's Most Memorable Hands promotion by Poker Update. In one sense, poker can produce moments of emotionally charged magic like no other sports, or game, in the world. But these hot spots are found in between hours and hours of laborious yawn. Dreyfus aims to fix this by changing the way the game is played, and the way that the game is presented.
The biggest change will be the creation of a gaming arena known as The Cube. Players will compete in this 20ft, one-way sound proofed box, offering spectators the first-ever immersive poker event in the world. Players will stand, not sit, and Dreyfus also intends to change some of the rules. Game time will be sped up, a clock will be introduced, and each table will feature digital cards and RFID technology designed to make the game four times faster than it's currently played out.
The 'professional' side of the game is also going to get a kick up the ass. The GPL will fund its prize pools from its revenue streams (sponsorship, ticketing and merchandise), and players will no longer have to foot the bill, as they will be paid to play, and earn more when they win. It also hands more creative control to Dreyfus and his team.
Mediarex Sports & Entertainment has also hired Repucom to conduct a survey, just so they know they are on the right lines. 30% of poker fans questioned said they would be interested in purchasing tickets to attend live GPL events, 25% said they would buy GPL team franchise merchandise, 52% said the GPL was very relevant in the poker industry, and 63% said they would watch the GPL World Championships.
It's going to be different. It's going to be radical. In Dreyfus's own words he is 'excited to deliver this disruptive approach,' and I for one can't wait to see how it will all pan out.