Poker Update has launched an innovative new promotion aimed at finding the most memorable hand in TV history.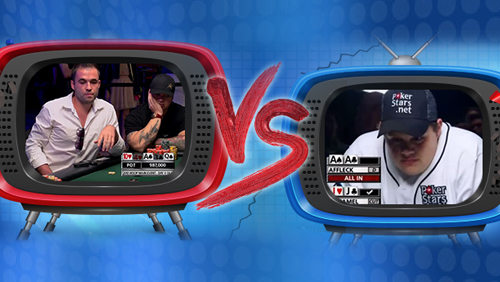 What is the most memorable televised poker hand?
It's a question that's tougher than dry humping a jellyfish, but that hasn't put off the team at Poker Update. Robbie Strazynski and the crew aim to answer that question, and they have engineered an innovative way of going about it.
"The main thing I was looking for was something that would engage the fans. So much of poker media is passive and responsive – people consume one story, they may read something else, and then they are gone. It was important that I found something that was not only fun, and interesting but interactive." Strazynski told me during a Skype call.
I often liken a poker tournament to a dormant volcano. There's a certain majesty to it, but stare as much as you like, it doesn't get very interesting. Then suddenly there is an explosion. Larva replaces lethargy. Cold becomes hot. Faces contort and twist in shock. A single hand of poker becomes one of the most stimulating acts in the sporting/gaming world.
"The news often features the same high profile players like your Daniel Negreanu's and Phil Ivey's, but an individual poker hand doesn't have to feature anyone famous to be entertaining." Said Strazynski.
It's in these individual moments that poker becomes illuminating. The widening of Matt Affleck's eyes the moment the [8d] hits the river, Jonathan Duhamel pulling the hood over his face to hide his inappropriate grin, and the quivering of Affleck's bottom lip. It's raw emotion. It's perfect poker.
This is why Poker Update's Most Memorable Television Hand of All-Time promotion is so good. It sucks the very best moments of poker's modern televised times, slaps them on one individual webpage, and asks people to choose their very best.
The team has broken 32 televised hands into four categories: Funny, Impressive, Shocking and Exciting. Hands have been paired in a March Madness style bracket. Poker fans will vote for their favorites with the winners going into the next round. There is a round of voting per week, and five rounds, meaning the winner will be voted for as the World Series of Poker (WSOP) Main Event gets down to business.
"When I look at someone like PokerNews I think news and legislation. That is their niche. Poker Update is in the business of entertaining people. I need to think about what we can do differently than everyone else." Said Strazynski.
He's certainly done that.
Strazynski doesn't have a personal favorite. I do. Mine is the hand between Michael 'The Grinder" Mizrachi and Matt Jarvis. To me, it epitomized everything that I love about sport. The ups and downs of the moment, captured perfectly in five simple turns of a playing card.
What's yours?
Comments