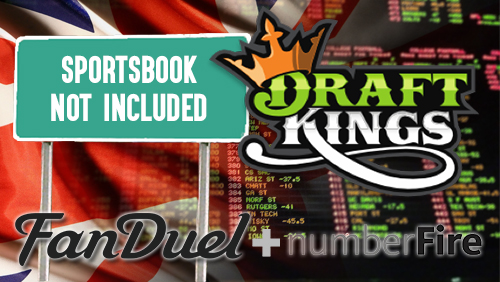 DraftKings is launching its London office, but don't expect the daily fantasy sports operator to open a sportsbook anytime soon.
"We know what we do, and that's daily fantasy," DraftKings CEO Jason Robins told Bloomberg Business.
DrafKings recently received a gambling license to operate in the UK. The new London office—manned by around 20 staff members—will open by the end of this year.
Former PartyPoker boss Jeffrey Haas has been tapped to manage the UK operations as DraftKing's new chief international officer. Haas left Bwin.party digital entertainment in July, leaving hints of a "new adventure."
The expansion was made possible by the DraftKings' recent $300 million funding round, but things are expected to get tougher for the daily fantasy sports operator as its owners are running out of equity to sell.
The London office, however, is just the beginning of DraftKings' overseas expansion. Robins said they are eyeing other European countries as well as Asia and Latin America, and will soon include more soccer, cricket and sports in their offerings. DraftKings will also follow its U.S. strategy of signing marketing partnerships with sports teams, leagues and media outlets.
As you can probably tell, the fantasy sports operator is not too keen on changing its business model, probably out of fear that the DFS industry will be regulated domestically. The news of DraftKings receiving a gaming license in the UK will most likely make it onto the radar of some lawmakers, who will, in turn, ask: Why should DFS be a regulated activity in the UK, but not in the U.S.?
DFS is a regulated activity in the UK, and companies like DraftKings need to have a gambling license to operate. In the United States, there is a carveout for fantasy sports at the federal level, and DFS is generally considered a game of skill in most states.
FanDuel acquires sports analytics company numberFire
Meanwhile, DraftKings' archrival FanDuel is broadening its horizons.
In an interview with Tech Crunch, FanDuel CEO Nigel Eccles said the company has acquired numberFire analytics to help them go beyond fantasy sports.
"We've started to think of ourselves as a fantasy sports business—we want to make sports more exciting," Eccles told the media outlet.
numberFire offers statistical analysis for sporting events and sports fans. Eccles said they plan to integrate numberFire's analytics into FanDuel's fantasy sports product to "educate sports fans."
Fans of DFS are asking for more data, according to numberFire CEO Nik Bonaddio, but the challenge lies in highlighting the information that will be useful, like which players will perform best in a fantasy lineup for a given week. Bonaddio told Tech Crunch they will soon provide a tech-driven approach to meet the needs of DFS players.
Maybe FanDuel and numberFire can take a page out of newbie Edge Up Sports. The Kickstarter funded company recently tied up with tech giant IBM to come up with an app that will use Watson—an artificial intelligence—to crowdsource data and offer an overlook for every player on a fantasy team's roster.
Comments