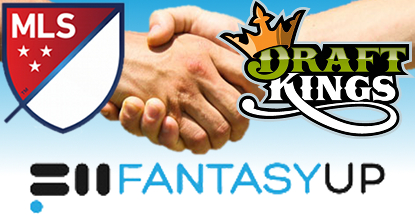 Daily fantasy sports (DFS) operator DraftKings has inked an exclusive partnership with Major League Soccer (MLS).
The deal will see DraftKings serve as the exclusive DFS destination for MLS in both the US and Canada. DraftKings says it will offer exclusive free and paid MLS games and will develop "new and innovative" games to further whet MLS fans' whistles. DraftKings also intends to partner with a number of individual MLS teams, details of which will be released at a later date.
DraftKings CEO Jason Robins said soccer was "underrepresented in daily fantasy and we're going to change that in a big way." MLS president Gary Stevenson called DFS a "proven fan development tool" and said fans could expect to see "deep integration within our many digital platforms."
The deal follows similar tie-ups DraftKings has made with Major League Baseball, the National Hockey League, the NASCAR driving organization and the Ultimate Fighting Championship.
IS FANTASYUP GOING FANTASYDOWN?
In far less inspiring DFS news, questions are swirling as to the future of DFS operator FantasyUp. A few days ago, a thread popped up in the Rotogrinders forum via a player who'd been waiting one month for the site to fulfill his withdrawal request.
In due course, a FantasyUp support rep posted that the site was "in the process of finalizing a deal with a national-wide brand and raising significant funding to dramatically increase its exposure, marketing and product offerings." The message then claimed that its accounts were currently "being held in escrow" and that "we must continue to wait for this deal to finalize (or our period of exclusivity to expire) before we proceed."
Cue massive cries of 'bullshit' from the Rotogrinders community, who wanted to know what kind of deal required player accounts to be frozen and why any investor would want a potential acquisition target to effectively stop doing business with its customers.
Questions were also raised as to why player accounts weren't strictly segregated from the company's operating capital. Other posters have commented on FantasyUp's aggressive deposit bonus offers and its prolonged period of a rake-free promotion. More than one member noted the similarity with sketchy online poker sites and one wag even wondered if Jennifer Larson – CEO of infamous Ponzi scheme Lock Poker – was among FantasyUp's senior management.
The FantasyUp rep attempted to temper the outrage by claiming the company had "moved a substantial amount of money to Paypal" prior to the start of its mystery deal, although commenters still didn't understand why customer accounts needed to be moved anywhere.
The rep also claimed that the site was "taking care of smaller non-regular customers as we can," which didn't make the site's larger, regular customers feel any better. Meanwhile, FantasyUp continues to send out promo emails encouraging new customers to sign up for their $1k deposit bonus.
Similar concerns are mounting about another DFS also-ran. Ballr.com went offline this week and the site has reportedly issued emails claiming they were having 'issues with an investor.' The emails claimed that they hoped to be back online next week and that no player funds were at risk.
Should either site vanish without making its customers whole, the calls for regulation of the DFS sector will only grow louder. Either that, or DFS' own Black [Insert Day of the Week] could be just around the corner.
Comments