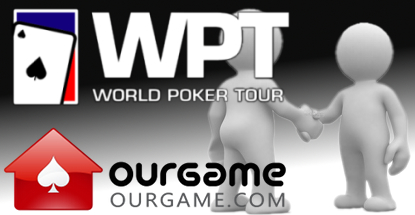 UK-listed online gambling operator Bwin.party digital entertainment has sold its World Poker Tour (WPT) business to Hong Kong-listed online games operator Ourgame International Holdings for $35m.
On Sunday, WPT Enterprises Inc. announced that it had accepted a $35m cash offer from Ourgame, which has been offering online card and board games since 1998. The deal, which includes all WPT's properties – live tournaments, television production and the ClubWPT.com subscription poker site – is expected to close on June 25.
Poker is already part of Ourgame's offering and the company has been a WPT licensee since 2012, helping to promote the WPT China event at the Grand Sanya Resort in Hainan province.
WPT CEO Adam Pliska claimed to be "delighted to now become a fully-integrated member of the Ourgame family," which Pliska called "a high growth company led by an enthusiastic group that is fully invested in the growth of the sport of poker."
Ourgame CEO Frank Ng said he was "very proud" with his new toy, and said Ourgame "will continue to expand [WPT's] already impressive global presence … via television broadcasts, mobile devices, card tables and more." Ng said the acquisition would further Ourgame's goal to "evolve into a global media and sports entertainment operation" by building out what the company calls its "mind sports eco-system."
According to a filing released by Ourgame, the WPT lost over $7.6m in 2014 but Ourgame "expects to realize cost savings through the elimination of [Ourgame's] royalty payments to [WPT], human resources rationalization and cost base reduction."
In what must be a refreshing change, the struggling Bwin.party appears to have done a deal that turned a healthy profit, as its pre-merger parts acquired the WPT in 2009 for $12.3m. Bwin.party has been mulling the sale of some or all of its bwin.parts for some time now. It remains to be seen whether Sunday's announcement makes Bwin.party more or less of an attractive takeover target for 888 Holdings, the Amaya Gaming/GVC Holdings combo or some as yet unidentified suitor.