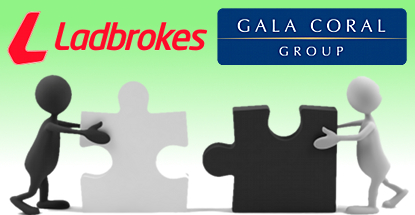 UK gambling firms Ladbrokes and Gala Coral Group have confirmed they are in discussions regarding a potential merger.
News of the talks was broken on Monday by the Racing Post and subsequently confirmed by Ladbrokes CEO Jim Mullen, who released a statement saying a merger "could create a combined business with significant scale and has the potential to generate substantial cost synergies, creating value for both companies' shareholders."
Mullen is believed to be the presumptive CEO of the proposed combined entity. However, the discussions are believed to be in the early days and a source told the Financial Times that price and future corporate structure remained sticking points. Mullen said his company's board of directors "has not yet concluded whether a transaction is strategically attractive and can be delivered to shareholders on appropriate terms."
This isn't the first time these companies have been down this road. In 1998, before private equity groups Candover, Cinven and Permira took control of Gala Coral from the Bass brewing company, a proposed £363m Ladbrokes takeover of Coral was blocked by then trade and industry secretary Peter Mandelson over concerns that the UK market would end up a virtual duopoly controlled by the enlarged Ladbrokes and rivals William Hill.
A combined Gala/Ladbrokes (Galads?) would boast around 4k retail betting shops in the UK, easily outpacing the 2,300 controlled by current retail kingpin William Hill.
Mullen, who assumed Lads' CEO reins in March, said his focus has been on "a more aggressive plan to build digital scale and grow out recreational customer base across all channels." Lads' oft-derided digital channel posted a modest gain in its Q1 numbers while Gala Coral recently humble-bragged that its modest digital operations were "the fastest growing in the UK online gambling market."
The UK market is currently dealing with the imposition of the new 15% online point-of-consumption tax (POCT), which is forcing some operators to consider consolidation to remain competitive. Betfair recently revealed that the POCT cost it over £19m in just five months while Hills reported paying an extra £20m in just three months thanks to the POCT and the increased Machine Games Duty.