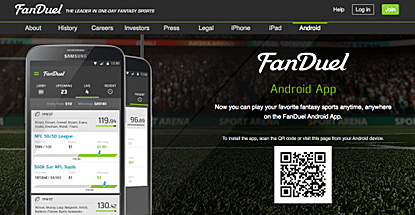 Daily fantasy sports operator FanDuel has launched a new Android app that allows players to enjoy "the full FanDuel experience."
FanDuel already had an app for Android devices, but its functionality was limited to providing live scoring updates so players could track their teams' performance.
On Tuesday, FanDuel announced that it had released a new Android app that provides players with all the options available via their website, including finding contests, building and editing team lineups, tracking live scores plus the ability to withdraw, deposit and manage their accounts.
The app is currently available for download exclusively via FanDuel's website, as Google's Android Play store doesn't permit apps that facilitate real-money gambling. As customers in regulated jurisdictions both within and outside the US have discovered, the fact that some wagering is legally permissible in certain jurisdictions matters not to Google's overlords.
FanDuel's increased accessibility could give DFS opponents even more ammunition in their quest to seek either the imposition of regulation or a complete shutdown of the sector. While fantasy sports received a carveout from the 2006 Unlawful Internet Gambling Enforcement Act (UIGEA), that bill's sponsor has since declared that he had no intention of legalizing today's DFS product. And no less a figure than MGM Resorts CEO Jim Murren recently declared that DFS "is gambling" and anyone who thought differently was "absolutely, utterly wrong."
Longtime online gambling opponents like Las Vegas Sands' Andy Abboud make a great show of holding aloft mobile phones and claiming that online gambling is putting casinos in the pockets of every American child. Has FanDuel just put a sportsbook in the pocket of every child in America?
Comments