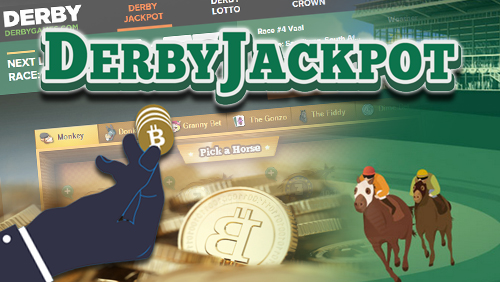 U.S.-based gambling website DerbyJackpot.com has partnered with merchant payment processor GoCoin to allow its customers to bet on horse races using Bitcoins, becoming the first U.S.-regulated gambling site to accept the digital currency.
"Having spent the last 18 months circling the globe educating gaming and financial regulators in Europe and Southeast Asia, I'm thrilled to see the U.S. be the first to market with a legal-regulated real-money gaming site with DerbyJackpot," said GoCoin CEO Steve Beauregard. "And being from Maryland, I'm especially proud to see the launch on the eve of the Preakness Stakes."
"As a Bitcoin company, compliance needs to be top of mind. Our compliance team was uber impressed with the thoughtfulness and thoroughness of the DerbyJackpot compliance program, that they were a natural fit for GoCoin," Beauregard added.
DerbyJackpot.com told Bitcoin Magazine they chose to accept bitcoin due to numerous requests from customers.
The partnership started during the Triple Crown of Thoroughbred Racing season starting from the Kentucky Derby. DerbyJackpot.com users were able to bet bitcoin on races at the Preakness this past weekend and will be at the Belmont Stakes on June 6, among hundreds of other horse races.
Hackers targets Hong Kong banks; demands Bitcoin payout
An international group of hackers launched distributed denial of service (DDoS) attacks on two of the largest financial institutions in Hong Kong, demanding bitcoin payment.
Hong Kong police confirmed that they have received reports from Bank of China and the Bank of East Asia. According to bank spokespersons, "the two institutions later received emails demanding payments in bitcoins, or there would be another round of attacks."
The hackers initiated the attack by overwhelming the banks' websites with traffic from multiple sources which caused irregularity in internet traffic and made the sites unavailable.
The banks confirmed that none of its customer accounts have been compromised.
There is media speculation that the attack came from the group of hackers known as DD4BC, which is listed in Bitcoin Bounty Hunter for attacking Finnish bitcoin wallet and exchange Bitalo and bitcoin sports betting platform Nitrogensports.
"DD4BC threatens the bitcoin community with DDoS extortion, blackmailing and slander," said Bitcoin Bountry Hunter.
The banks declined to release information such as emails used by the hackers and the amount of BTC demanded.