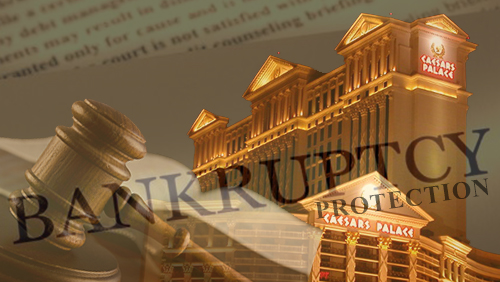 Caesars Entertainment Operating Co. Inc. (CEOC), a unit of Las Vegas-based casino operator Caesars Entertainment Corp, filed for bankruptcy in the Northern District of Illinois in Chicago on Thursday.
CEOC, which owns and operates 44 gaming and resorts properties and represents 80% ($18.4b) of Caesars' overall $28.2b debt load, announced that it is moving forward to implement its previously announced financial restructuring plan.
In a press release, CEOC said that the plan, which has received support from more than 80% of first-lien note holders, is intended to significantly reduce long-term debt and annual interest payments, while providing for significant recoveries for (certain) creditors and ensuring no interruption of operations across the company's network of properties.
"Today, with the overwhelming support of our first-lien bondholders, we are moving forward to implement our previously announced restructuring plan, which is intended to strengthen CEOC's financial condition and significantly reduce debt," said Gary Loveman, Chairman of CEOC.
"We believe this restructuring is in the best interests of all of CEOC's stakeholders and will result in a sustainable capital structure for CEOC and value creation for all stakeholders. The restructuring of CEOC is the culmination of a years-long effort to improve the health of CEOC's balance sheet, which has included substantial investment in new and upgraded assets, especially in Las Vegas. I am very confident in the future prospects of our enterprise, which will combine an improved capital structure with a network of profitable properties," Loveman added.
Loveman also announced that Caesars' casino-hotels would remain open and continue to host meetings and events, assuring customers that their loyalty points would still accrue and the company's lineup of on-stage entertainers would keep performing according to their schedules.
According to Loveman, the company's suppliers will still be paid in full and employees would continue to receive pay and benefits as usual. CEOC has more than 30,000 employees in its 38 casino-hotels, including Bally's and Caesars in Atlantic City and the iconic Caesars Palace on the Las Vegas Strip.
The bankruptcy filing doesn't apply to parent company Caesars Entertainment Corp. and affiliated companies such as Caesars Entertainment Resort Properties LLC and Caesars Growth Partners LLC, which are separate entities with independent capital structures.
Caesars has been negotiating with creditors and lenders for months on a reorganization plan that would turn the division into a real estate investment trust, however, three junior creditors hedge funds owed $41 million contend the plan isn't fair. In a bid to get more favorable terms, they filed an involuntary bankruptcy petition in Delaware's federal court on Monday.
If its bankruptcy plan works out, the transactions would reduce CEOC's debt by approximately $10 billion, providing for the exchange of approximately $18.4 billion of outstanding debt for $8.6 billion of new debt and reduce annual interest payments by 75% from approximately $1.7 billion to approximately $450 million.