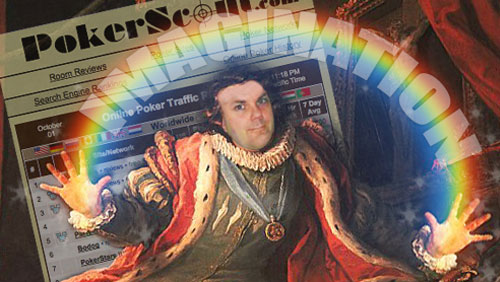 [polldaddy poll=8330446]
It has been a long-running battle between Bodog and the data-tracking site, PokerScout.com. Despite Bodog's refusal to be included in PokerScout.com's listing, the tracking site still publish "estimated data" from Bodog Poker Network, which is why we decided to ask our readers, "Is it okay that PokerScout is profiting from Bodog's data without permission?"
66.67% said, "No, that's stealing." While 33.33% voted, "Yes, just sharing useful information for players."
In 2011, Bodog approached Dan Stewart and his PokerScout.com to remove their numbers from PokerScout. Stewart said it could be done but only in exchange for a seven-figure payout. Bodog refused to pay and has taken measures to protect its regular users including prohibiting traffic software and information gathering sites the chance to access and compile accurate "proprietary and confidential" information from the Bodog Poker Network.
July 18, Bodog went missing from the PokerScout's online traffic report and thought that it stopped selling Bodog's data to its customer yet 18-24 hours later, Bodog was back in PokerScout's rankings in the 10th position but with significantly less traffic than previously reported.
When Bodog's recreational model was implemented, it also had the secondary effect of thwarting PokerScout.com's data collection, as Bodog's Anonymous tables and their decision to hide full tables made accurate data collection virtually impossible.
Despite the inability to compile data from the Bodog Poker Network, PokerScout.com continue to post daily numbers for Bodog in their online traffic report. Stewart proclaimed his site is largely unaffected by Bodog Poker's attempt to stop him from publishing their poker data.
Bodog in a press release:
"PokerScout relies wholly on accurate data so why would they carry data from companies they cannot measure? Carrying figures for Bodog simply undermines the credibility of their product as there is no way of estimating player numbers with anonymous tables.
Apart from the fact that this is confidential and proprietary information, carrying figures for companies like Bodog, surely, simply undermines their own business model.
Bodog once again ask that PokerScout remove statistics that are patently untrue unless, of course, they subscribe to the ethos of Vic Reeves that; "88.2% of statistics are made up on the spot."
PokerScout claim they; "…actively track over 98% of all online poker traffic, and provides estimated liquidity statistics for the rest." Why? It would be more sensible to publish only information they know is real rather than muddy their authority with absurd guesstimations?"
Next week's poll asks, "What do you think of PokerStars ending affiliate deals?"
PokerStars has cut a select amount of affiliates by its own admission, based on the fact that these affiliates were not performing up to satisfaction. Fair or unfair? Take our poll and check back next week to see what our readers think.