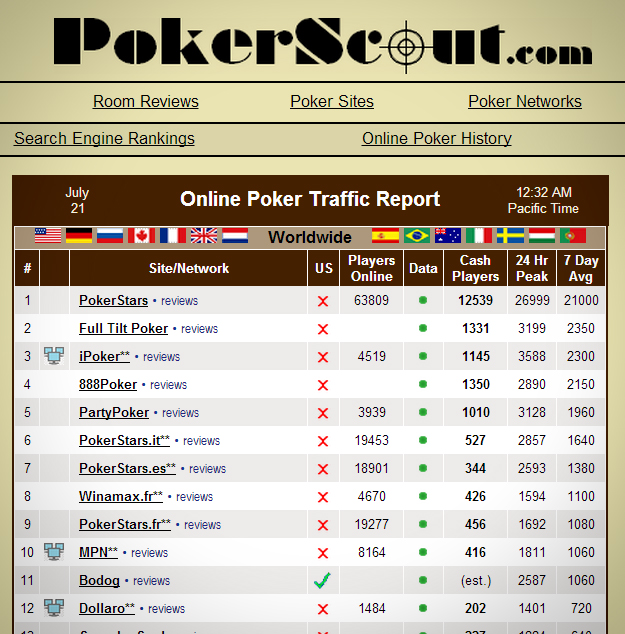 The long-running battle between the Bodog Poker Network and Dan Stewart's online poker traffic-reporting site PokerScout.com appeared to be over, at least for a day.
Sometime Thursday, the Bodog Poker Network vanished from PokerScout.com's rankings for 24 hours.
For several years, the Bodog Poker Network has waged a public campaign against poker tracking and poker volume tracking sites as part of the implementation of their Bodog Recreational Poker Model. These tracking sites benefit grinders and sharks while doing nothing to enhance the experience of recreational poker players that are the lifeblood of any healthy poker ecosystem.
Bodog has taken several steps to block tracking sites, including hiding full tables from their lobby, making big investments in technology to block sites from scraping proprietary data, as well as the most prominent change — the move to completely anonymous tables. These investments worked well, as it's now impossible for third parties to collect Bodog poker data, which forced tracking sites and the makers of the various poker heads-up-display (HUD) software to tap out and no longer offer support for the Bodog Poker Network.
Yet despite the inability to compile data from the Bodog Poker Network, Dan Stewart and his PokerScout.com continue to post daily numbers for Bodog in their online traffic report. In a far more ethically challenged move, Stewart continues to sell Bodog Poker Network data to his clientele.
In a rare acknowledgement of his inability to collect real data from Bodog, Stewart has added an (Est.) to the numbers he attributes to Bodog on his site, apparently in the belief that this somehow absolves him from any ethical and moral quandaries that arise from selling Danielle Steele-quality fiction to his clients.
Ethically, this is abhorrent, repugnant and — depending on who you ask — probably illegal and definitely consumer fraud.  Of course, it's hard to expect much less from the man who once attempted to extort the Bodog Poker Network for a seven-figure sum.
A couple years ago, Bodog approached Stewart to remove their numbers from PokerScout. Stewart said it could be done but only in exchange for a seven-figure payout.
So on Thursday, when Bodog went missing from the Online Traffic report, it was hoped that Stewart had experienced some sort of ethical epiphany. Perhaps he realized that posting and, more disturbingly, selling fraudulent data to his customers was, er, wrong and he should quit deceiving his customers in this manner.
Yet 18-24 hours later, Bodog was back in PokerScout's rankings in the 10th position but with significantly less traffic than previously reported.
Why was Bodog removed? Was Stewart's crystal ball on the fritz? Did it take 24 hours to brew some tea leaves and/or boil the skin off some goat bones to provide alternate methods of making his predictions? Only Dan Stewart knows for sure. Perhaps when he returns from the customer service department at Crystal Ballz R Us, he could explain why he continues to treat his customers as fraud bait.