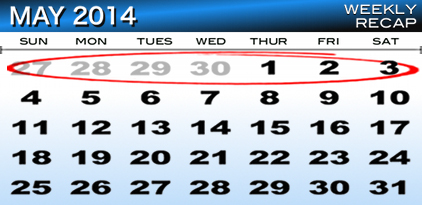 THE AMERICAS
Actor/director Ben Affleck was reportedly banned from the Hard Rock Casino in Las Vegas for card counting; Boyd Gaming revealed its New Jersey online gambling division lost $3.2m in Q1; Nevada casinos reversed their revenue slide in March; Wynn Resorts said Las Vegas has officially risen from the dead much like Wynn's civil lawsuit with Kazuo Okada; MGM Resorts had its best quarter in five years; Las Vegas Sands shot down rumors that Sands Bethlehem was for sale; Vadim Trincher, Hillel Nahmad, Anatoly Golubchik and poker princess Molly Bloom were all sentenced for their role in the Taiwanchik-Trincher illegal sports betting and poker ring; GameAccount Network inked a free-play online casino deal with New York's Empire City Casino; Multimedia Games acquired electronic table game maker PokerTek; Rebecca Liggero profiled social sports betting app Gamblino and Robbie Strazynski offered a visual poker map of the United States.
EUROPE
The UK government's crackdown on fixed-odds betting terminals was less harsh than expected; Ladbrokes Q1 was dire but CEO Richard Glynn hopes the company's new ad campaign will turn things around; Playtech's Q1 was boosted by Asian grey markets but the company made licensees exit the Belgian market; Unibet enjoyed all-time high revenue in Q1 while its Kambi sports betting division signed 32Red; Codere's creditors gave the company 10 days to restructure its debt or else; the European Court of Justice declared Austria's gambling laws noncompliant with EU law; the UK's advertising watchdog announced it would undertake a full review of gambling ad rules; the Equity Poker Network got into hot water for rejecting winning players; a UK court ruled that playing poker didn't qualify as "gainful employment;" Melco International's Lawrence Ho struck a deal to manage a Spanish casino; Rebecca Liggero polled the industry on the convergence of social gaming and real-money gambling while Lee Davy interviewed the man behind social pools betting forum Stakes and Ladders.
ASIA
Macau casino revenue hit $3.9b in April but the month also saw a junket shareholder make off with $1.3b in investor funds; William Hill Australia parted ways with CEO Michael Sullivan; the Macau Jockey Club reopened its long dormant casino; Mongolia announced its intention to launch a domestic horseracing industry; Bloombery Resorts' Solaire casino turned a profit in its first year of operation; Sri Lanka dealt Crown Resorts a blow by caving to casino opponents; Bodog Asia's Paul Fox discussed the explosive growth of live betting in Asia and Rebecca Liggero offered seven reasons why you should attend this month's Japan Gaming Congress and don't forget the Global Gaming Expo Asia.