Continuing with the CalvinAyre.com innovator series, today we're going to take a closer look at Gamblino, a US facing sports betting application that encourages competition and social behavior between bettors.  This application is surprisingly 100% legal in the US and can be downloaded straight from the iTunes store.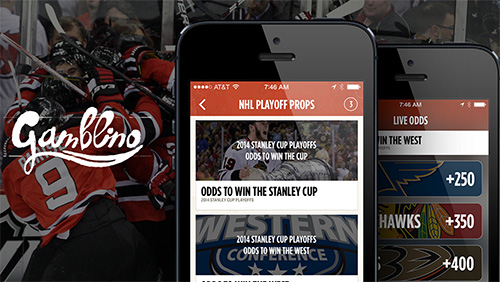 Gamblino's founder, Frank Wilson, is passionate about sports betting and this passion is obvious after talking with him about his journey to launch and what he's done with the product since.
There are a lot of "social" sports betting products around, but Gamblino is an outlier as its all about instant and guaranteed action plus the odds areup-to-date and provided straight from the most sophisticated books around.
Wilson received our call for innovators in the online gambling industry and contacted CalvinAyre.com about his product- we liked it and here is his story.
Becky Liggero: Hi Frank, thank you so much for taking the time to join me today.  Lets start with the story of how you came up with the concept for Gamblino.
Frank Wilson: My friends and I have always jumped at any chance to compete with each other around sports, from fantasy football to March Madness brackets to friendly bets–but we've always been disappointed by the lack of access to sports betting in the US. The beauty of sports betting is that it gives you the opportunity to be actively staked in any game you're watching, regardless of who's playing. We built Gamblino to deliver the best of both worlds, combining the tried and true elements of sports betting with the fun of good old fashioned competition.
BL: You and you friends sound a lot like my male friends in Boston…what were the steps and challenges involved from your idea to the actual launch?
FW: One of the biggest challenges was building out a top tier tech team as a non-technical founder. We were lucky to get involved with an extremely talented designer, Stephen Lynch, from the outset. His work in taking a typically crowded and confusing mobile experience and making it intuitive and accessible for even the first timer has been impressive. I think that's been a big part of what's allowed us to attract such a strong engineering team.
BL: How does Gamblino expand the bettor vs. house experience to competitive and social behavior between bettors?
FW: One of the biggest benefits of betting against the house is the ability to have your action accepted instantly–but betting against the house is a solitary act, it's just you against the number. Other attempts to add a social element to sports betting have typically focused on the peer-to-peer model, but ultimately we saw the breaking point in this model was having your action accepted by someone else and a lot of times that action goes unfilled. Our contest and pool formats solve this problem by delivering the instant action of a sportsbook in a competitive, social environment. On top of that, the odds our players are betting on are an up-to-the-minute calculation of mid-market from over 30 sportsbooks. For those serious players looking to prove they're the best, this is the ultimate battlefield.
BL: Gambino has an intuitive and user friendly interface- in addition to having someone like Stephen Lynch on board, how have you developed this "user friendly" aspect of your product?
FW: We spent almost a year gathering feedback from our community, really trying to understand what was working and what wasn't, and what our players wanted to see next. I personally spent a lot of time at sports bars, handing out branded giveaways and watching people use the app for the first time. Watching people use your product in person can give you insights that analytics can't, and I learned a ton. We poured all of that feedback and experience into Gamblino 2.0, which launched earlier this year, and the results have been fantastic.
BL: I think that's great, these days we tend to forget about the importance of in-person contact. On another note, why do you think the stigma that has traditionally been attached with sports betting in America is shrinking?
We feel the stigma is in large part due to misinformation and a general lack of understanding around the issue. But nowadays, data and information are king and people are becoming more educated on what the sports betting industry is all about, so antiquated notions of sports betting are slowly becoming a thing of the past. As society continues to gain a better understanding of the industry, it's becoming more apparent that sports betting is a legitimate industry run by smart people and powered by data. Sports media outlets are also picking up on this, seeing the value in the predictive power of odds and the added storylines they create.
One of the biggest fears of sports betting comes from the misguided notion that legal sports betting would somehow harm the leagues, but evidence suggests that the data transparency of a regulated market would make it far easier to uphold the integrity of the games. We recognize that the more people understand about the industry, the sooner it will be fully accepted. By offering a safe and legitimate means to compete around sports betting, we hope to extend that basic awareness and understanding, and positively foster this trend.
BL: I love your point that the sports betting industry is legitimate, data driven and run by smart people- maybe someday the US government will see that too.  Speaking of, how are you able to legally operate within US borders with a sports betting product?
FW: No money ever changes hands, and our players never put up a dime for our contests– which are structured as sweepstakes, making them legal in all 50 states. Just like fantasy sports, it's all about the competition.
BL: Got it.  Now what can we expect to see from Gamblino in 2014?
FW: We've had a lot of people begging us to get an Android version out, so that will be a big priority for us. We're also working on some exciting things on the contest side, but that news will have to wait!
BL: Sounds great, Frank- thanks so much for your time today and we're looking forward to watching your progress with Gamblino- good luck!
Comments