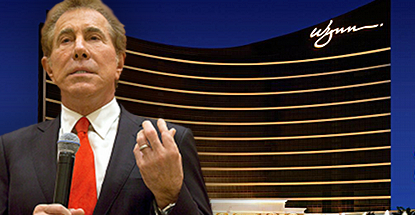 Casino operator Wynn Resorts saw profit rise nearly 12% in Q1 on the strength of its two Macau casino properties. Revenue was up 13% to $1.5b while earnings rose 9.7% to $494.6m and profits hit $226.9m. In keeping with tradition, Wynn's Asian operations were the stars of the show. Revenue from Macau was up 14.2% to $1.1b, while revenue at Wynn's properties in Las Vegas fell 1.5% to $381m.
Wynn's Macau gains were all the more impressive considering its VIP gambling win rate fell to 2.79%, within the accepted range but well off the 3.14% recorded in the same period last year. Thankfully, VIP table game turnover rose 26.7% to $36b and mass table win rose 23.7% to $300.7m. Slots handle rose 25.3% to $1.4b and win rose 13.1%. Non-gaming revenue rose 7.3% to $113m as occupancy rate rose 4.3 points to 98.1%.
Stateside, gaming revenue at Wynn's Las Vegas properties fell 11.9% to $155.3m. Table games were double-whammied as amounts wagered fell 3.2% while win rate hit 20.7%, below the accepted range of 21% to 24%. Thankfully, slot handle was up 6.8% and win rose 7.6%. Room revenue rose 12.6% to $103.1m, food & beverage revenue was flat at $115m while retail and entertainment revenue rose 9.4% to $54.1m.
The day was marred by news that Steve Wynn's nemesis, Universal Entertainment boss Kazuo Okada, had filed a fresh defamation suit against both Steve and his company in a Japanese court. Okada, formerly Wynn Resorts' number one shareholder, had a nasty falling out with Steve in February 2012, spawning countless lawsuits between the two former BFFs. Steve issued a statement deriding Okada's latest suit as a bid to "create a distraction from the investigations pending against him."
On the post-earnings call with analysts, Steve noted that results at the Vegas properties would have been up had it not been for the estimated $10m impact of the abnormally low table games hold. Steve said he'd been "a little reticent" to join his fellow operators in celebrating Vegas officially rebounding from its 2008 nadir, but "our profitability on the Strip was the highest it has been for quite some time."
As for Macau, Wynn has been shifting mass tables from poor performing areas to premium mass, helping to push April's mass gaming up 55% year-on-year. Asked about the possibility of construction at Wynn's casino on the Macau peninsula interfering with mass gaming numbers, Wynn Macau president Ian Coughlan said there "seems to be a myth out there that we've lost a lot of mass tables in the casino," insisting that the loss was in the "the single digits." Steve explained the casino had "hijacked the poker tables" to cover the difference.
Steve indirectly addressed both Macau's increased emphasis on mass as well as recent junket operator concerns by noting that because of Macau's new smoking laws, all of the VIP gaming rooms at the under construction Wynn Palace on Cotai have terraces facing the lake. So "any one of these big, so-called junket rooms can become premium mass instantaneously … Flexibility is a very big thing in a market as dynamic as Macau."