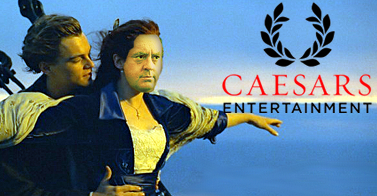 On Monday, US casino operator Caesars Entertainment 'sold' four of its properties to the subsidiary that controls its online gambling operations. Caesars sold its Harrah's New Orleans property along with three Vegas casinos – Bally's, the Quad and the Cromwell – to Caesars Growth Partners (CGP), which already counts the Planet Hollywood Casino in Las Vegas and Caesars Interactive Entertainment (CIE) under its umbrella.
While CGP will 'own' the properties, the parent company – which owns 58% of CGP – will continue to manage the properties and Caesars retained the right to reacquire the properties in a few years should its circumstances improve or CGP finds a need to artificially improve its own balance sheet via a temporary asset 'sale,' which may be sooner than one thinks, given that CGP took out a $2b loan to finance the deal. (Truly, the apple doesn't fall far from the tree.)
The total value of the deal – which includes CGP assuming responsibility for debt and renovations at the properties – is around $2.2b. Caesars CEO Gary Loveman (pictured in Leo's supporting arms) says the deal will allow Caesars to reduce some of its industry-high $24b debt load and marks "an important step in our ongoing efforts to repair Caesars Entertainment's balance sheet." But since both parties in this deal are essentially two sock puppets connected to the same pair of arms, one can't help but imagine a desperately lonely teenager creating bogus social media profiles to 'like' his/her own Facebook posts.
This type of accounting sleight-of-hand is the direct result of having to deal with the interest payments on Caesars' debt. Caesars is set to report its 2013 annual revenue figures on March 11, but the company has already announced it's on pace to lose between $1.7b and $1.82b. That's on top of the $1.5b loss in 2012 and the $700m loss in 2011, making a three-year total loss of around $4b. At this point, Caesars may wish to create a separate spin-off entitled Caesars Keith Richards, as Keef is about the only other entity on this planet that can take this much abuse and somehow remain upright.
Meanwhile, South Korea has yet to announce the fate of Caesars' bid to build a resort casino on Yeongjong island. South Korea rejected Caesars' original bid last June over concerns that the company might go bankrupt before the project was completed and the Ministry of Culture, Sports and Tourism was supposed to announce its verdict on Caesars' second try on Thursday. The press conference was cancelled just hours before it was set to kick off, with a new announcement scheduled for Monday. But Tuesday has now come and gone with no further word from the government, leading to questions as to what's gone wrong. Just a hunch, but perhaps 'shell game' really doesn't translate into Korean?