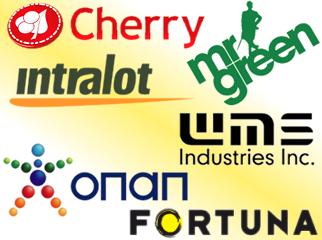 Let's be honest: every three months, gambling firms from all four corners of the globe deluge the industry with earnings reports. Some are great, others… not so much. Sites like this one duly report these figures so readers can decide for themselves whether the info is of any use. Problem is, with the exception of the reliably irreverent Paddy Power, they all taste like medicine without the spoonful of sugar chaser.
Well, no more. The following collection of dry financial data has been grouped geographically and coupled with some nationalistic eye candy. This way, just when you think your head will explode if you read EBITDA one more time, you can visually cut out the EBI and D parts.
GREECE
First up is Greece, where national betting monopoly and former state asset OPAP reported Q2 net profit down a whopping 78% to €28.4m while revenue fell 12% to €875m. The gag-inducing results are what happens when the dire Greek economy and a new 30% revenue levy both stick their fingers down a company's throat. For the first half of 2013, OPAP's revenue was off 15.1% to €1.74b and profits dipped 73.9% to €67.3m thanks to a 23.9% drop in sports bets and a 7.1% drop in numbers games.
It was a different story with Greek gaming and lottery tech outfit Intralot, where earnings were up 20% to €97.6m in the first six months of 2013. Intralot's leap is all the more impressive considering revenues rose just 4.3% to €687.3m. CEO Constantinos Antonopoulos said the future's looking good thanks to the long-delayed finalization of its deal to operate Greece's Hellenic State Lotteries as part of the consortium with OPAP and Scientific Games. In August, Intralot doubled its stake in Turkish electronic sports betting and lottery agent Bilyoner to a total of 50.01%. The stake cost €10m but Bilyoner has €8m cash on hand and is debt-free, which lessens the sting appreciably.
Maria Menounos (pictured left) was born in the United States but her parents were Greek immigrants and her name ends in 'os', so close enough. For the record, we're not entirely sure what Ms. or Mrs. Menounos did to become famous, but we've seen her picture on tabloid magazine covers while waiting in line at the supermarket. She's pretty.
FORTUNA ENTERTAINMENT GROUP
In the Czech Republic, Fortuna Entertainment Group saw profits up by more than a third in the first half of 2013. Combined operations in its home territory, the Slovak Republic and Poland helped push Fortuna's profits up 34.5% to €7.56m, while earnings rose 27.4% to €12.9m. Revenue rose 4.1% to €57.4m, to which online betting contributed €23.3m (+37%). Fortuna reported "significant growth" in online betting across all three markets, with online turnover doubling in Poland and online betting now accounting for more than half of Czech betting revenue.
Retail revenue fell 9.3% to €29.4m, with both Poland and the Czech Republic posting declines while Slovakia's betting shops were flat. Lottery turnover fell 25.6% while revenue fell 26.1% to €3.7m, leading to management having discussions about "strategic options" for the lottery channel. Despite the absence of a marquee sporting event like Euro 2012, Fortuna's number of active registered customers rose 27% year-on-year and total turnover rose 20.4% to €275.8m, of which €268.4m (+22.5%) was from sports betting.
Looking forward, Fortuna has high hopes for a deal with Bwin.party digital entertainment to expand their online sports content, while also planning the launch of a Mobenga-powered mobile betting app. Looking right, that's famous Czech model/goddess Eva Herzigova, whose famous Wonderbra ad (pictured) will celebrate its 20th anniversary next year. Hello, Eva.
CHERRY, MR GREEN
Moving north to Sweden, Cherry AB lost SEK 8.7m (US $1.3m) in Q2 2013 thanks to its online operations being "burdened with high bonus and marketing costs." Group turnover rose 15% to SEK 61.6m, while online turnover rose 29% to SEK 29.4m. There was a 65% bump in new customers and a corresponding 64% rise in deposits, but online marketing costs rose 250% to SEK 18.8m thanks to the launch of the SpilleAutomater.com online casino and the relaunch of CherryCasino.com.
Cherry's Restaurant Casino division saw turnover rise 5% to SEK 32.1m while earnings were flat at SEK 2.4m. Cherry operates 352 gaming tables in the country, representing 61% of Sweden's total complement (up from 55% last year). Looking forward, Cherry has high hopes for its majority stake in games developer Yggdrasil, which just debuted a 10-game portfolio on Cherry's EuroSlots.com site, although Cherry expects the fledgling Yggradsil to be a net drag on earnings through 2013.
Still in Sweden, Malta-licensed online casino operator Mr Green reported a 77% rise in Q2 revenue to SEK 114.6m, while profit soared to SEK 27.4m from just SEK 3.6m. This is Mr Green's first earnings report since the company made its June debut on Sweden's AktieTorget exchange, so way to make an entrance, guys. CEO Mikael Pawlo said the "robust" returns were in part due to the launch of new platforms for tablets and smartphones. For the first six months of 2013, the socially responsible company's revenue is up 64% to SEK 223.5m while the bottom line has gone from a small loss last year to a SEK 52m profit in 2013.
She's seventy-something years old now, but man, back in the day, Ann-Margaret (Olsson) was wondrous to behold. If you only know her from Tommy or her role opposite Steve McQueen's poker player in The Cincinnati Kid, be sure to check out the kitschy classic Kitten With A Whip or the underrated adaptation of Elmore Leonard's 52 Pick-Up, which features a blink-and-you-missed-it cameo from porn star Ron Jeremy (foreshadowing alert).
WMS INDUSTRIES
Finally, we head stateside, where gaming device maker, software developer and online gambling operator WMS Industries reported fiscal Q3 revenue of $203m, up 4% year-on-year. New machine sales revenue was up 6.9% to $105m but other product sales were off 58.7% to $14.4m, resulting in a 10.3% decrease in total sales revenue to $119.4m. Gaming operations revenue rose 33% in Q3 to a record $83.4m thanks to a 6% gain in the installed machine base and a $17.4m contribution from the Williams Interactive division, up 15-fold year-on-year.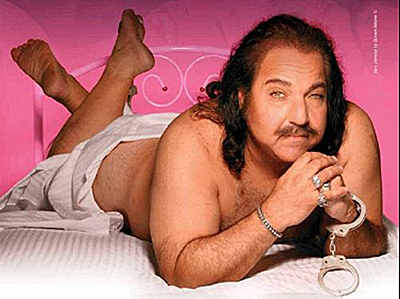 The Interactive arm benefited from a 35% boost in daily active users of the Jackpot Party social casino, growth at its UK-facing real-money online casino and the addition of WMS slots content to numerous European-facing online casinos, including brand new client William Hill. Stateside, Williams has presided over the rollout of the Play4Fun Network in collaboration with numerous US tribal brick-and-mortar casinos. and will begin offering its casino products via Delaware's intrastate real-money online gambling offering following its October launch.
As we've reached the end of our global trek, we need to offer the ladies something, lest anyone dare call us sexist pigs (again). Behold Ron Jeremy, star of over 2,000 pornographic movies, each one a cinematic classic, we assure you. Honestly, how Ron never got to play Khalid Sheikh Mohammed in Zero Dark Thirty remains a mystery on par with how Ben Affleck was chosen to play Batman. Anyway, see you all in three months.