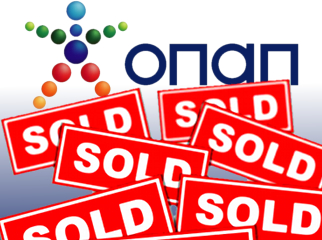 An investment group that includes Italian lottery and betting outfit Lottomatica Group has acquired the Greek government's stake in betting monopoly OPAP for €652m. The deal, which still awaits regulatory approval, will see the Greek government's 33% stake in OPAP sold to Emma Delta, a group made up of Lottomatica, Czech investor Jiri Smejc and Greek shipbuilding giant the Melissanidis Group. Emma Delta will contribute a further €60m in dividends, bringing the total value of the deal to €712m.
The Greek government's sale of its OPAP stake was part of its sweeping privatization of state assets. The fire sale, which is being overseen by the Hellenic Republic Asset Development Fund (HRADF), was a requirement imposed by the European Union and the International Monetary Fund (IMF) as part of the €240b bailout the cash-strapped country accepted in 2010. Greece was required to raise at least €2.6b from asset sales this year or face even more punitive measures from its creditors.
OPAP, Greece's most profitable company, was seen as the crown jewel in the state's privatization plans, but the sale didn't go as smoothly as planned. From an original slate of eight bidders, the field narrowed to just two last month. The other suitor, US hedge fund Third Point, saw its bid rejected after it insisted on the right to resell its OPAP shares at any time. The HRADF also rejected Emma Delta's original bid of €622m as being less than market value and gave its lone remaining bidder 48 hours – later extended to a full week – to up its offer to at least €650m.
Emma Delta's final bid still represents a figure well below OPAP's present market value of €745m, but the price reflects the uncertainty surrounding OPAP's future. While the company is highly profitable and its online and lottery betting monopolies were recently extended to 2020 and 2030 respectively, legal challenges over the constitutionality of those deals by European operators William Hill and Stanleybet could complicate matters.
Greek opposition parties are complaining that the fact that there was but one bidder for the country's most successful company demonstrates the haphazard nature of the privatization program. A state official admitted to Reuters that the government's "expectations may not have been met in full, but it's nevertheless a success because it is the first major privatization and paves the way for others." Greek horserace betting monopoly ODIE is also slated for the auction block, but it too is reportedly having difficulty generating interest, with its own tender having recently been extended by two weeks.
Comments