First, an explanation. I've written in the past that my long-running skepticism toward US iGaming, expressed on a site focused on the gambling industry, has made me feel like the proverbial turd in the punch bowl. That's not to say that I don't think online gambling will eventually reach US shores in a regulated fashion; rather, I have questioned which publicly traded companies will reap the benefits, when they will reap those benefits and how much they have to gain.
My experience is colored by my first professional experience in the stock market, as a registered representative who passed the Series 7 and Series 63 exams (required for sales of any stocks or investment vehicles in the US) in early 2000. It was the peak of the dot-com boom, and I watched my firm, a small enterprise focused primarily on technology stocks, collapse as the euphoria surrounding the then-nascent Internet subsided and stock prices plunged.
To be sure, the optimism that has surrounded US iGaming over the past eighteen months, since the US Department of Justice's re-interpretation of the 1961 Wire Act, is nothing like the mass hysteria that accompanied the Internet bubble. To understand just how big that bubble grew, it's worth pointing out that the NASDAQ index, traditionally more dominated by technology stocks than the New York Stock Exchange, is still one-third below its highs reached more than thirteen years ago. But as I wrote in article for Seeking Alpha nearly two years ago, the issue with the Internet bubble wasn't the Internet itself. It was the valuations placed on stocks in the sector. The projections for the use of the Internet have hardly disappointed; indeed, the very existence of this article and this site are evidence of that point. But Internet stocks were so ridiculously overvalued at their peak that even winners such as Amazon.com (AMZN) and eBay (EBAY) took years simply to return to their share prices from late 1999 and early 2000.
Again, there has been nothing akin to the Internet bubble in iGaming stocks. But there have been a number of big, speculative moves based solely on the potential of a market which, to this date, has not created any revenue for any publicly traded companies. (It was privately held Station Casinos' Ultimate Poker which wound up being first to market in Nevada.) Shares of Caesars Entertainment (CZR) gained 11 percent in a single day in December after it was recommended for a gaming license in Nevada; Zynga (ZNGA) saw a ten percent gain over two days after simply announcing its intent to file for a license in the state. Caesars gained 60 percent after the passage of iGaming legislation in New Jersey; while shares of Zynga and Boyd Gaming (BYD) – owner of the Borgata in Atlantic City – saw 10-11 percent gains in the wake of Christie's initial, conditional, veto of online gambling legislation in the state.
Despite those one-day moves, it's worth pointing out that US iGaming, so far, has not had a major effect on share prices. A chart of those stocks most sensitive to online gambling news so far – focusing on Caesars and Boyd in New Jersey, speculative play Zynga, and PartyPoker operator bwin.Party Digital Entertainment (BPTY.L) since the Wire Act opinion was issued shows decent gains, roughly in line with the broad market: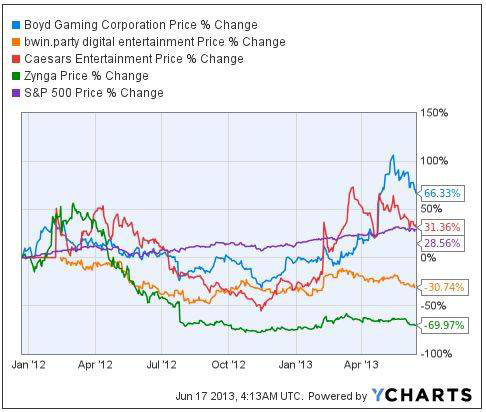 While Boyd has gained strongly, and Caesars has modestly outperformed the broad market since its February 2012 IPO, Zynga and bwin.Party have lagged significantly. The gains seen in the wake of iGaming movements have been largely short-term; smart traders have bought the stocks on online gambling-related news, and then sold in the days after, largely negating the effects of iGaming optimism on the stocks. On a broader basis, the effect of iGaming on US stocks appears to be similarly muted; the Market Vectors Gaming ETF (BJK) has outperformed the S&P 500 since the DOJ opinion was announced, gaining roughly 40 percent to 28 percent for the market as a whole. Yet this type of performance is hardly unusual for gambling stocks, who rise more than other stocks in good times and fall further in bad times.
All told, the market may have finally realized that iGaming is not the simple, lucrative opportunity many of its supporters have argued it will be. It will not be enough, on its own, to overcome the collapse in revenues in Atlantic City, or the struggles at Zynga, or the failed merger of bwin and PartyPoker. Notably, two recent developments – a federal iGaming bill sponsored by Rep. Peter King (R-NY) and Nevada's decision to authorize interstate compacts – have failed to create the type of speculative gains in stocks like Caesars and Zynga that have been seen in the past.
The apathy toward King's bill is understandable; it was instantly bashed by none other than Senate Majority Leader Harry Reid (D-NV) – no stranger to failed federal legislation himself – and seems to have little chance of passage. But the "interstate compacts" described in the Nevada bill have been at the heart of the bull case for gambling stocks exposed to US iGaming. Through these compacts, a state like Nevada, with a population less than 3 million, could create massive liquidity by bringing in other states – or other countries – into its player pools, turning a cutthroat, profit-poor market into a lucrative opportunity for successful licensees.
But, again, the market shrugged at the news. And, in this case, the market appears to be correct. While the idea of an interstate compact makes great sense in theory, its practical application is complicated, to say the least. The very first question becomes: with whom, exactly, does Nevada plan to pool its liquidity?
Any sort of US agreement seems unlikely right now; New Jersey's legalization of a full suite on online gambling products and Delaware's decision to run iGaming through the state Lottery would mean both states are off limits as partners to Nevada. Further state movements have largely stalled; bills in Illinois and Pennsylvania have run into roadblocks, while a bill in California expressly forbids interstate compacts. Nevada could, in theory, pool its liquidity with US tribes, but agreements in New Mexico and Oklahoma have shown that the likelihood of states blessing tribal entry into the US market is slim at best. Meanwhile, agreements between states and their tribes would appear to mandate that any online gambling be executed on tribal lands, severely minimizing the population exposed to any such compacts.
Canada has its own sovereignty issues with tribes, making it an unlikely partner. South America offers both "grey markets" and state-run monopolies; either would provide a difficult partner for Nevada's seemingly high standards. Online gambling is banned throughout most of Asia; certainly, Nevada would not allow its operators to pool liquidity with underground, potentially triad-affiliated operators in China or Singapore. Europe is moving toward "ring-fencing" its online poker sites; if they won't share liquidity across the Continent, why would they do so across an ocean? As for the Middle East, well, let's just say a compact with Iran, Syria, or Egypt seems rather unlikely at this moment.
Beyond the geographic issues, there are severe technical issues. Who, exactly, is going to set the standards, and why does Nevada – again, with a population of less than 3 million – think that larger states or even larger countries will bend to its will? How will taxation be enforced if two players are competing for a single pot, one in Nevada with a 6.75% tax rate and another in state or country X with a 20 percent tax rate? Who gets what share of licensing fees and payments for background checks? Where are the physical servers to be located? Why, as Caesars officials asked in a request for comments related to Nevada's proposed regulations for interstate compacts, should Nevada be the regulator of choice if it, unlike New Jersey and Delaware, is not legalizing banked games such as blackjack and craps? If Nevada chooses not to license, say, PokerStars, and Illinois does, whose regulatory regime comes out on top? And, again, why would Illinois, or Argentina, bend to Nevada's will if the latter jurisdictions are the ones driving liquidity?
Interstate compacts will require intense, long-term, detailed negotiation between states and their politicians. And even a cursory look at the state of US politics shows just how long those negotiations are likely to take. When observers use words like "inevitable" or "destined" to describe US iGaming, or when analysts such as those at Morgan Stanley estimate a $9 billion online gambling market in the US by the end of the decade, they seem to underestimate just how long the process might take.
And the problem is that US iGaming is hardly inevitable. Three states have legalized, regulated iGaming regimes. Two of those states were the first two – by decades – to legalize land-based gambling in this country. The third – Delaware – is a tiny state with no sales tax and a long-running pro-business streak (indeed, the overwhelming majority of US corporations are headquartered in Delaware, due to the state's corporate-friendly laws.) The biggest roadblock to iGaming in the US has yet to come – but it will come. Once New Jersey and Delaware put full suites of gambling products online, someone in either – or likely both – of those states will make a massive mistake. Someone will lose their house because they blew $75,000 on online slots in the first two months they were up. A teenager will gain access to his parents' credit cards and go on a blackjack binge that would earn notice in Macau. This will happen, and it will be national news. And it will make every congressman in Illinois, Pennsylvania, and California think twice about sponsoring – or even voting for – an iGaming bill for his or her own state.
Right now, iGaming remains more theory than practice. And, in theory, the revenue flows from taxation and licensing fees seem like a godsend for financially strapped state governments. In practice, US iGaming is set to be a thorny, difficult, minefield for operators, politicians, and investors. Like the Internet in 1999, the potential profits will be realized; but they will likely be less than hoped for, and come later than many believe. It appears that the market is beginning to learn that lesson; the rest of us should too.