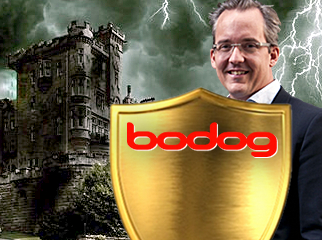 News that PokerStars is investigating one of its player accounts over allegations of forced disconnections during heads-up play further underscores the benefits of fully anonymous poker tables, according to Bodog Poker Network (BPN) president Jonas Ödman. The brouhaha began when players on poker forum 2+2 reported multiple instances of being disconnected from high-stakes heads-up sit-and-go tables on Stars, resulting in their timing out of the hands and forfeiting significant pots. Several Stars players noted that the disconnects occurred while playing a specific opponent, who enjoyed a 14-game winning streak at levels ranging from $100 to $1k.
The disconnected players were allegedly the victims of targeted denial of service (DOS) attacks. Traditional distributed denial of service attacks , which flood a company's servers with data in order to overload and disable them, are routinely directed at online gambling sites, usually during peak traffic periods to heighten the impact on operators. The attacks are followed by ransom notes offering to end the attack in exchange for a sum of money. But in these latest cases, the attack is focused on a single IP address, which the attacker can obtain if they can determine (a) your online poker screen name and (b) your username on instant messaging/chat service Skype OR your online poker forum account identity.
In response to the kerfuffle, BPN's Ödman released a statement arguing that the situation bolstered "the argument for poker rooms to offer anonymity for ALL players." Ödman says fully anonymous tables offer recreational players protection "from those who buy player data," which Ödman argues is "not something a real poker player should need to resort to anyway." Ödman's stance on player anonymity has earned him the ire of many a sharp player in the poker forums, but Ödman maintains that even sharp players would benefit from total anonymity, to shield themselves "from being singled out" for the type of targeted forced disconnections described above.
BPN recently announced it was sending a 100-strong contingent of online qualifiers to this year's World Series of Poker in Las Vegas. BPN is also reserving a spot in the upcoming $100k Grand Final of the Anonymous Poker Series in Manila – along with flights and accommodation – to the first player to bust out of the WSOP Main Event's Day 1A. Two more spots will be awarded to WSOP players who have the stones to dress up as Zorro.
The decidedly not anonymous BPN pro Jay Tan (@pocketjays) is currently sitting extra pretty at the PokerStars Asia Pacific Poker Tour Macau event, currently going down at PokerStars LIVE at the City of Dreams. Some 388 players anted up the HKD 25k (US $3,200) buy-in, but Day 2 ended with just 49 players still in the hunt. China's Yan Cui is currently top dog with 484k chips, followed closely by Tan (455k) and fellow Hong Kong resident David Man (451k). (Tan's fiancé, Kenny Wong, busted out early on Day 2.) The money bubble bursts at 48 players, meaning one player will be extra disappointed to bow out first when Day 3 commences Saturday at 3pm local time.