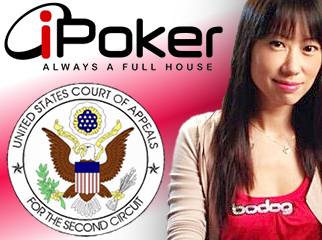 Playtech's iPoker network has quietly introduced anonymous poker tables to its offering. So far, Titan Poker is reportedly the only iPoker skin to be participating in the soft-launch of the anonymous tables, which was initially reported by iPoker affiliate PokerStrategy.com. The anonymous action is currently limited to low-stakes No Limit Hold'em cash games, but plans are afoot to introduce the scheme all the way up to $100/$200. iPoker's anonymous tables are strictly optional, which defeats much of the purpose of anonymity, according to Jonas Ödman, president of the Bodog Poker Network, which switched to an entirely anonymous model in 2011. iPoker is promising more details on its anonymity plans next week.
Speaking of Bodog, they've just re-upped with sponsored pro Jay Tan. The two parties came together a year ago and have been suitably impressed with each other's company to remain hitched for at least another year. Tan had her biggest live tournament success to date while flying the Bodog flag, finishing seventh at this year's Aussie Millions main event, for which she earned a cool $157k. Ödman called Tan "an integral part of the ongoing Bodog Poker story," while Tan said she felt "very at home with Bodog and look forward to carrying on where I left off." Tan rejoins CalvinAyre.com roving reporter Tatjana Pasalic as Bodog Poker's public presence on the live tournament scene.
DICRISTINA APPEAL UNDERWAY
The interminable argument over whether poker players like Tan are highly skilled or just luckier than most was revived in a Manhattan court room this week. The 2nd Circuit Court of Appeals is weighing the case of Lawrence Dicristina, the former proprietor of a back-room poker game in New York City. Dicristina was initially convicted for violating the federal Illegal Gambling Business Act (IGBA), only to have the verdict vacated in August after Judge Jack Weinstein's decided poker was a game of skill, which put it beyond the IGBA's scope. Irate prosecutors appealed, and here we go again.
On Thursday, James McManus, author of Cowboys Full: The Story of Poker, filed an amicus brief with the court supporting Weinstein's ruling. According to Courthouse News Service, McManus' brief argued that the IGBA's failure to specifically identify poker by name reflected Congress' belief that poker didn't deserve to be lumped in with pure luck games like slots, craps or roulette. Quoting Sir Arthur Conan Doyle, McManus described this omission as "the dog that didn't bark."
Furthermore, McManus argued that not only was poker a skill game, its "merit-based nature" made it as American as John freaking Wayne. According to McManus, "poker appears to have found a receptive home in the United States because it offers a level playing field where success is tied predominantly to individuals' skill, with chance playing a far more minor role … From its earliest days, buffalo hunters, printer's assistants, sharecroppers, and freemen of color all played on level footing. This egalitarian sentiment endures."
So there you have it. Either you're a fan of poker or you're with the terrorists. And remember: President Obama is both a poker fan and the guy who calls in the drone strikes.