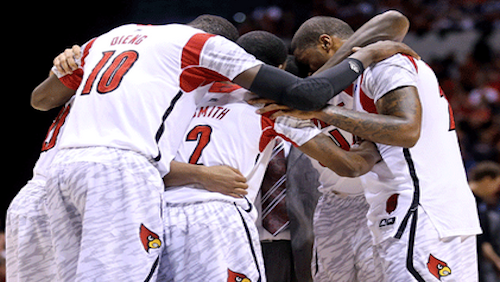 On a day when the Final Four was decided, nobody in college basketball – or anywhere else, for that matter – could find it in them to enjoy what has become an eventful NCAA tournament.
For the top-seeded Louisville Cardinals, their Elite 8 triumph against the Duke Blue Devils was supposed to remind everyone why they were chosen as the top overall seed in the tournament. Instead, they had to soldier on in the second half after a traumatic and horrific injury to one of its own, sophomore Kevin Ware, who broke his leg in such stomach-churning fashion that none of the major news outlets showed the video soon after it happened.
Give utmost credit to those boys who had to suffer seeing their teammate in such a horrifying ordeal; they played the second half and blew the lid open on what had it been a close game to advance to the Final Four. But there was no pure excitement in the air after the game. Not from Cardinals players. Not from its coaches. And not from its fans.
All everybody had on their minds, including the rest of the world who happened to see the injury, was Kevin Ware.
The freakishness of the injury itself – there was no contact – only exacerbates the confusion, fear, and worry for the young sophomore. The dude just jumped, and then everything fell apart from there.
It doesn't seem even right to talk about the three other teams who made it to Final Four. It's not fair considering that they did their part in advancing, but for fans of Syracuse, Michigan, and Wichita State, we doubt anybody is thinking of anything – or anybody – else other than the health and well-being of Kevin Ware.
Our thoughts and prayers are with you, kid.