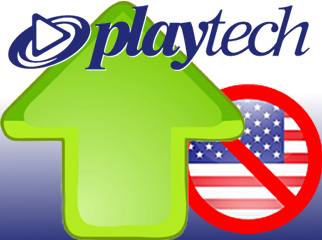 Online gambling software purveyor Playtech boosted its revenue 53% to €317.5m in 2012. Adjusted earnings were up 49% to €186.7m while profits rose 20% to €86.8m in a year that non-executive chairman Roger Withers described as "an exceptional period" in the company's development. Playtech inked 19 new licensees in 2012 and grew its employee base 62%. This momentum is (so far) carrying over into 2013, with the company reporting average daily revenues up 15% over the same period in 2012, and Playtech has high hopes for its new tie-up with Ladbrokes.
Playtech's 2012 casino revenue rose 33% to €151.7m, while bingo revenue rose 19% to €18m, aided by the Q3 launch of Gala Bingo. Poker was the lone black sheep, as revenue slipped 18% to €17.8m. However, the company claims that following iPoker's Q3 split into separate liquidity tiers and the Q4 additions of Betfair and Betclic Everest to the network, "the trend of revenues changed to growth towards the end of 2012." Playtech was keen to tout the progress in had made in 2012 in regulated markets such as Italy, Spain and Denmark, while staying shtum about its grey-market operations in Asia.
Services revenue rose 147% to €106.3m, reflecting the company's pricey 2011 acquisition of marketing and CRM outfit PT Turnkey Services from Playtech founder/majority owner/convicted stock fraudster Teddy Sagi. Playtech reportedly plans to make more such 'bolt-on' acquisitions once the company receives its £424m check from William Hill for the buyout of Playtech's share of the William Hill Online operation. We can only assume that news has sent Sagi scouring his basement and attic for other assets to flog to his mates.
Then again, he might not need to, at least for a while. Playtech CEO Mor Weizer revealed that Sagi could be in line for a one-off £200m payday if Playtech follows through on suggestions to return the WHO windfall to shareholders. Playtech is planning a roadshow to consult with investors on how they'd prefer to use the WHO money and Weizer said Sagi, who holds 49.66% of the company's stock, would be one of the first people with whom he'd consult.
WEIZER DODGES NEVADA NO-SHOW QUERIES
Asked by analysts why Playtech seemed to be dragging its feet in pursuing online gambling opportunities in the developing US market, Weizer said it was working "behind the scenes" with prospective partners in different jurisdictions on deals ranging from "software and through different structures to [joint ventures]," adding that he didn't think it would be long "before we are in a position to update the market." Weizer suggested Playtech's 9.9% stake in US horseracing outfit Sportech could provide a route into the US. Sportech holds 29 gaming licenses in various US states, including New Jersey, where Weizer said Playtech would be "disappointed if we didn't get something signed there."
Asked specifically why Playtech hadn't directly applied for its own interactive gaming license in Nevada, Weizer dodged by saying Playtech had numerous licensees who were currently being weighed and measured by Nevada regulators and Playtech "continues to support them in this market." Weizer suggested Nevada's market was already too small to handle the volume of operators seeking licenses, so "the right thing for us in Nevada is to work with our existing licensees and support them with their investments."
Playtech's only dealings to date with Nevada regulators have been via its piggybacking on William Hill Online's application. Given the WHO buyout, doubts exist as to whether Playtech's service provider application would be eligible to sneak into Nevada under Hills' wing. Weizer told eGamingReview that the company was "seeking clarifications with regards to that."
Last June, Nevada regulators tasked with vetting Hills' acquisition of local sports betting operations expressed concerns over Hills' relationship with Sagi, who did a lengthy stint in an Israeli prison in the mid-1990s after being convicted of fraud and stock manipulation in the so-called Discount Affair scandal. Weizer claims Sagi has no role in Playtech's day-to-day operations.