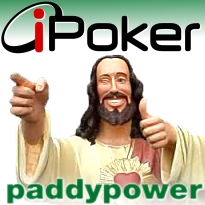 It's been a couple days since Playtech's iPoker network made the anticipated split into two separate liquidity pools, and though information is still dribbling out – none of which, it should be added, coming via iPoker – here's the current best guesses. While tournaments and iPoker's fast-fold Speed Hold'em will continue to involve all iPoker skins, cash games appear to have been cleaved in two on all levels up to 2/4 (name your currency), with the lower stakes now a forbidden zone for the multi-table grinders on some lesser iPoker skins.
The top tier is the larger, fish-friendly recreational pool of sites that met iPoker's requirement to (a) maintain an active player base over 6,000 and (b) bring in 850 new players per month, which includes Titan Poker, William Hill, Bet365, Paddy Power and Poker 770. Relegated to the barren wilderness of the bottom tier are Blue Square, Boylesports, Dafabet, Genting and Mansion. It's not apparent where Everest Poker will end up if/when it signs on the iPoker dotted line as rumored. It's also not apparent whether anyone's put up an over/under line on how long the bottom tier will be a going concern as grinders get fed up with waiting for a beatable opponent to take a seat and ditch their existing skins to seek more hospitable climes.
There was never a doubt that Paddy Power would make the grade, at least, not when you consider they had Jesus on their side, or at least, in their adverts. Paddy's first TV spot produced for the Italian market by Crispin Porter & Bogusky London traded on Paddy's "we hear you" tagline; the 'you' in this case being an Italian Facebook fan who posted, "Betting on this football? Only if a miracle heals it." As the Bible says, ask and ye shall receive, which led to divine intervention in the form of Jesus miraculously healing injury fakers and clearing match-fixers out of the bogs with a baseball bat. Sadly, most Italian TV stations have categorically refused to air the spot, which is pretty rich, since much of the nation's media is controlled by Silvio 'Bunga Bunga' Berlusconi. Et tu, Silvio?