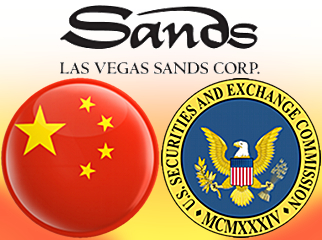 Casino operator Las Vegas Sands (LVS) has informed the US Securities and Exchange Commission (SEC) that it probably violated the Foreign Corrupt Practices Act (FCPA) via its past dealings with Chinese officials. On Friday, the Wall Street Journal reported that an internal audit committee tasked by the LVS board with investigating allegations of impropriety had determined there were "likely violations of the books and records and internal controls provisions" of the FCPA, which prohibits bribery of foreign officials by US companies.
The deals in question date back to the middle of the last decade, when LVS was just getting started in Asia. O'Melveny & Myers LLP, the firm hired by the LVS board to investigate the matter, believe deals made in mainland China by LVS execs lacked proper bookkeeping controls. These deals include the sponsorship of a Chinese basketball team and a failed bid to launch a trade organization bearing the name of LVS chairman Sheldon Adelson. In August, the auditors' preliminary report said the company's books and record keeping practices "were not sufficient" but concluded there was "insufficient evidence to conclude that there were corrupt payments" made to Chinese officials.
LVS has been dealing with a volume of allegations of Asian impropriety ever since it acrimoniously parted ways in 2010 with former Sands China boss Steve Jacobs. A wrongful termination suit filed by Jacobs has resulted in allegations that LVS kept Macau officials on their payroll, that Adelson overruled Jacobs' desire to turf an outside counsel who appeared to be negotiating a bribe on LVS' behalf and that LVS transferred money between the US and Macau on behalf of alleged triad members.
The deals on which the auditors have focused involve executives who are no longer with LVS, including former president William Weidner. Weidner, whose Weidner Resorts is pushing hard to build a resort casino in Taiwan's Matsu Islands region, declared in August that the board's focus on ex-staffers was a "distraction sideshow" intended to insulate current management from regulatory scrutiny. Weidner rejected the idea that there was any evidence of illegal transactions involving Chinese officials during his tenure.
Since the brouhaha began, LVS has taken steps to overhaul its compliance programs, including halting international money transfers and hiring three former FBI agents to monitor goings-on at LVS' operations in Las Vegas, Macau and Singapore. In October, the WSJ claimed LVS was close to reaching a deal with the US Department of Justice involving allegations of money laundering stemming from LVS' dealings with a couple of North American gambling whales. Friday's WSJ story was filed by Alexandra Berzon and Kate O'Keefe, the latter of whom was hit by a libel suit this week after Adelson objected to O'Keefe's description of him as "foul-mouthed" in her previous reporting on the Jacobs' defamation case.