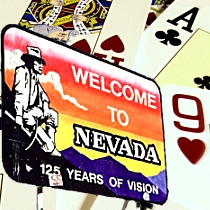 US Senate Majority Leader Harry Reid (D-NV) apparently hasn't given up on his dreams of federal online poker legislation. The Las Vegas Review-Journal's Steve Tetrault attended the meeting of Nevada delegates who traveled to Washington for President Obama's State of the Union address, and reported that Reid and his Nevada Republican counterpart, Sen. Dean Heller, were still brainstorming on how to get a poker bill through Congress. Reid's prognosis? "Not easy but we're working on it together." You know, because that worked so well the last time.
While Reid and Heller are busy singing Happy Together at the delegates' karaoke party, Nevada state reps have all but abandoned the federal fight. Following pleas by Gov. Brian Sandoval and Gaming Control Board chairman A.G. Burnett, the state Assembly has introduced AB 114 (read it here), which would amend the state's interactive gaming legislation by (a) striking language that required Nevada to wait for federal approval before the interactive gaming licenses it issued to operators took effect, and (b) permitting Nevada to enter into interstate compacts with other online gambling jurisdictions like New Jersey and Delaware.
The bill also proposes doubling the initial two-year interactive license fee from $500k to $1m, and doubling the one-year renewal fee from $250k to $500k. The Associated Press reported that Sandoval's office wasn't wild about the fee hikes. AB 114 was introduced by Assemblyman William C. Horne, who you might remember from his PokerStars-sponsored junket to London in 2010. Horne's AB 114 expressly prohibits any company, individual or 'covered asset' that served US punters after Dec. 31, 2006 (such as PokerStars) from getting anywhere near a Nevada interactive license for a full decade unless they first agree to throw themselves at the mercy of prosecutors at both state and federal levels.
Not to be outdone, Nevada's Senate has introduced legislation that would add online poker tournament entry fees to the list of gaming revenues subject to state taxation. Nevada has traditionally exempted land-based poker tournaments from taxation because they are viewed as promotional events requiring significant investment by casino licensees. but GCB chairman Burnett says these are not burdens online poker operators must bear, so ante up, motherfuckers. However, Burnett indicated that the tax would not apply to tournament prizes won by online poker players. Senate Bill 9 is now in the hands of the Senate Committee on the Judiciary for perusal.
Comments