The introduction of time clocks a few months ago was supposed to speed the game of poker up. It was designed to save time, putting players to decisions quicker and stopping the act of 'tanking', which had pervaded poker to such a degree in recent years. Poker was supposed to be improved by the inclusion of regulated time extensions.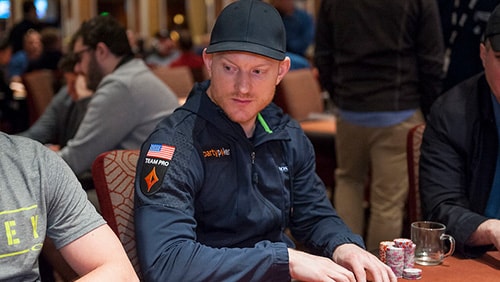 Sure, and VAR was supposed to be the correctional future of soccer.
Just like in soccer, poker find itself looking at the lines and wonder if it was worth them being drawn in the first place.
Where poker needed to be sped up, time extensions or time clocks have made it permissible for players to take 30 seconds on every single decision. Players who previously used to tank on one decision an orbit now have the option of mini-tanking on every street.
All of which brings us to the latest poker blog of partypoker Team Pro Jason Koon. While many player blogs can come across as if they are being composed with the brand's marketing team holding a gun to their head – we'll tell you if your latest live stop is going to be "incredible value", thanks – Koon has instead written a piece that clearly comes from the heart.
The essence of Koon's piece revolves around how slow or fast he plays now, and the conclusion he comes to is that he used to play a lot quicker six years ago. While he's obviously improved as a player in that time, sitting as he does, 9th on the all-time money list with $31,101,728 in live tournament winnings, Koon speaks eloquently about how much he thinks about moves.
From what range he puts players on to stack sizing, stack-to-pot ratios, bet sizes and board textures, it's clear that Koon's exhaustive process is both highly profitable and ultimately, mentally exerting. Decisions, he says, at the elite level have gotten to become extremely complex in a lot of spots, which of course now we have 24/7 poker, we get to see all of. Footage isn't usually so edited, especially in live streams, where elite games come at us in full, hand after hand.
Koon's point about how long players take could, of course, be contextual by the standard of poker in the modern game. Do players now provide more of a challenge, necessitating such cognitive concentration on each street? It's a little like comparing your favourite sports team to the classic XI who you idolised as a child. The modern team look like do everything quicker, but part of that feeling you get is down to other factors, for some of us the old-style advertising hoardings promoting products that don't exist anymore. For other, older, fans, there's no sepia tint to the single-camera footage.
If everything looks quicker the nearer to the present we stand, then from a player's perspective, what is the answer? How does the modern player adapt to poker's new timed element?
I spoke with James Akennhead some years ago, and oddly, it wasn't about his November Nine victory, but rather, his Sunday Millions one. He was a little annoyed when discussing his win, actually, and for good reason. He'd misclicked a betting superstition he'd indulged due to winning an all-in with an 8 on the end. He started adding an 8 to the end of each bet, that was until he added an eight to the start of a bet, adding 8 million chips to the bet. He got a call, he was behind… and he won the hand.
Having dominated the final table, Akenhead thought the only thing people would remember might be that he won that hand worth 16 million chips.
Now, of course, we've just mentioned it, but to balance that out, something else James Akenhead said in that interview resonated more. When asked what really led to him winning out at that final table, he explained, was the knack he had of dealing with some decisions that would take others longer very quickly. The knock-on effect was obvious, but clever; he was then left with a lot more time in his time-bank to process complex situations with cognitive clarity.
Quick, quick, slow, if you will. Jason Koon and James Akenhead may have mastered that happy knack, but have you? It might be time to watch Koon in action in the forthcoming partypoker MILLIONS Online and see if you can put some of what he preaches into practice.
You've still got time to get involved.