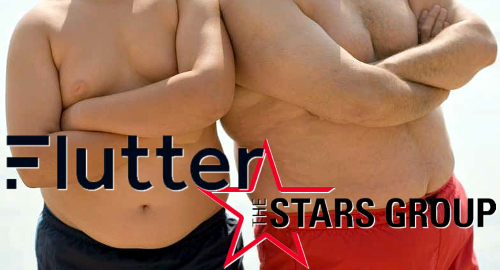 Online gambling industry heavyweights Flutter Entertainment and The Stars Group (TSG) have agreed to combine their operations, creating a true gambling behemoth while raising questions about how far this merger mania is prepared to go.
On Wednesday, the UK-listed Flutter (formerly Paddy Power Betfair) announced an all-share deal in which Flutter will absorb the Toronto-listed TSG and control just under 55% of the enlarged entity, with TSG shareholders claiming the balance of shares.
The combined operations – whose brands will include Paddy Power, Betfair, FanDuel, PokerStars, Sky Bet, SportsBet, Adjarabet, BetEasy, TVG and Fox Bet – will boast annual revenue of nearly £3.8b and earnings of £1.14b, while the expected annual 'synergies' will hit £140m by the end of the combined operation's third year of business.
The union is expected to be complete sometime in Q2/Q3 2020, assuming regulatory approvals in five different jurisdictions are forthcoming, which isn't a given, given that the new entity will control an estimated 38% of both the UK and Australian online markets.
The new Flutter will also have an outsized presence in the US sports betting market, thanks to the strong start made by Flutter's FanDuel brand in legal betting states as well as the expectations from TSG's Fox Bet joint venture with broadcaster Fox Sports.
Speaking of, Wednesday's proposed union will allow Fox to acquire up to 18.5% of the FanDuel Group, the banner under which Flutter's US-facing sports betting and fantasy businesses operate. The FanDuel Group's US partners – Boyd Gaming and Fastball Holdings – are in line for a payment of 12.5% of the increase of Fox Bet's market value following completion of the deal.
WHO'S THE BOSS?
The new Flutter will continue to be managed out of Dublin and listed on the London Stock Exchange, while TSG will delist from the Toronto exchange. Flutter CEO Peter Jackson will remain in his current role, as will Flutter CFO Jonathan Hill, while TSG CEO Rafi Ashkenazi will become Flutter's new COO.
All three will have seats on Flutter's new 14-person board of directors, which will be led by Flutter chair Gary McGann. The board will feature nine non-exec directors; five current Flutter directors, three from TSG, while former Sky Bet CEO Richard Flint will join following completion of the merger.
WHY?
Flutter CEO Jackson said the two companies had engaged in a "brief flirtation" last summer regarding the combination of their operations and these talks were reignited this summer. Jackson said the union was necessary to avoid becoming "a bit of a commodity player" in certain markets as the sector's consolidation fever shows no sign of abating.
Variations on that rationale were floated during the 2015 blockbuster union of Paddy Power and Betfair, and PPB's 2018 deal for FanDuel's US operations as well as TSG's 2018 acquisition of Sky Betting & Gaming, not to mention a host of other deals not involving the above companies.
The question becomes: at what point does the deal-making stop and the profit-generation commence? It seems that every time shareholders start to get antsy about promised earnings failing to appear, an even flashier deal emerges and those concerns are smothered by new lofty projections about future earnings.
The companies will have a tough slog ahead, both in integrating their respective technologies as well as marrying two very different approaches to regulatory risk. TSG derives a far greater percentage of its revenue from what can charitably be described as 'grey' markets, hence TSG's constant references to 'disruption' in its quarterly earnings reports.
There's also going to be a significant amount of staff bloodletting required to achieve those £140m in annual 'synergies,' adding to the parade of redundancies that both firms engaged in following their previous unions. And what does this mean for the online gambling consumer, whose independent options continue to shrink as the market drifts ever closer toward oligopoly?
Customers' views aside, shareholders appear unconcerned, for the moment at least. Flutter's shares soared by one-fifth on Wednesday's news, although they closed out the day up a more modest 7%. TSG's shares are currently up around one-third on the Toronto Stock Exchange.